Jesusparallellerna
(tredje utgåvan, 2006)
av Roger Viklund



Då jag efter större efterforskning funnit mer material, har min ursprungliga artikel om Jesusparallellerna från år 1999 blivit något föråldrad. Jag har därför valt att byta ut den artikeln mot denna nya förbättrade artikel. Jämfört med den ursprungliga artikeln, har jag uteslutit bland annat parallellerna med Krishna, då jag ansåg likheterna mellan hans liv och Jesu liv vara mindre betydelsefulla. I denna, den tredje utgåvan av Jesusparallellerna, har jag lagt till merparten av det material som finns med i kapitel 3.2 i min bok Den Jesus som aldrig funnits.
Men denna Internetutgåva avviker ändå något från den tryckta versionen i min bok. Exempelvis är inledningen omgjord och är det avsnitt i boken som handlar om Baal bortplockat. Vissa smärre fel är också korrigerade. Framför allt har det dock tillkommit en del nytt material. Eftersom det i en nätutgåva, i motsats till i en bok eller i en tidning, inte föreligger någon brist på utrymme, har jag i fotnoterna tagit med citaten ur originalkällorna och i de fall texterna finns på nätet också länkat till dem. En motsvarande artikel på engelska The Jesus Parallels finns på min engelska webbsida. Om ni upptäcker fel i denna artikel, såväl språkliga som faktiska, skulle jag mycket uppskatta om ni meddelade dem till mig. Likaså vore det värdefullt att få information om sådant material som borde vara med i artikeln, men saknas.

Inom den moderna forskningen finns en tendens till att bortse från likheterna mellan evangeliernas Jesus och andra halvgudar. Försvarare av den kristna tron, så kallade apologeter, säger oftast att skillnaderna är större än likheterna; att de enda likheter som förekommer är strukturella likheter; och att om någon har lånat något är det hedningarna som har lånat från de kristna.
Jag har jämfört Jesu liv enligt evangelierna med andra gudssöners och har koncentrerat mig på sex gestalter; den grekiske läkeguden Asklepios, den med Jesus samtida frälsaren och undergöraren Apollonios, den grekiske hjälten och gudssonen Herakles, vinguden Dionysos, den romerske mysterieguden Mithras, och den från Indien stammande Siddhârtha Gautama Buddha. Jag har också behandlat föreställningarna om jungfrufödseln, uppståndelsen och underverken och i samband med dessa undersökt Adonis, Attis och Osiris.
Mina avsikter är …
1) att plocka fram alla relevanta likheter. Paralleller som inte finns med är troligen sådana som jag inte har lyckats spåra.
2) att så långt som möjligt återge citaten ur originalkällorna så att alla har möjlighet att bilda sig en egen uppfattning.
3) att visa att många föreställningar faktiskt är förkristna.
I min genomgång av de sex gudomliga gestalterna har jag naturligtvis uteslutit många detaljer ur deras liv som inte äger paralleller med något i evangelierna. Givetvis behövde varje gudsson sitt eget unika uttryck för att uppfylla de behov som fanns bland skilda folk.
Jag påstår inte nödvändigtvis att andra kulturer och mytologiska föreställningar har influerat kristendomen. Så har säkert skett vid många tillfällen, men knappast vid alla. En bättre förklaring kan vara att de alla byggde på ett gemensamt arv. Men om nu allt inte nödvändigtvis är lånat från hedningarna, innebär det inte att evangelieberättelsen om Jesus därför blir sann. Däremot tyder det på att varje berättelse om varje gudsson är en mytologisk berättelse och att så också är fallet med Jesusberättelsen. Det verkar minst sagt otroligt att "varenda" frälsargud skulle ha levt sitt liv på ungefär samma sätt och gjort ungefär samma saker som alla andra. För mig är det ytterligare en pusselbit att lägga till de andra och tyder på att evangelierna är fiktiva dokument.
Den äldsta religionsformen är sannolikt naturreligionen. I alla tider har människan sökt att tolka den verklighet hon lever i. Naturens välvilja har varit en ständig förutsättning för hennes överlevnad. Det är därför inte underligt att människan letat efter olika sätt att blidka naturen så att den skänker regn, värme, svalka, skydd, mat etc., allt efter hennes behov. Någon gång i tidernas gryning började våra förfäder personifiera denna naturens kraft. I de äldsta religionerna var gudarna starkt sammanbundna med naturen och kan därför betecknas som vegetationsgudar.
Vegetationsgudarnas betydelse har ständigt ifrågasatts från kristet håll. Man hävdar att det inte finns några entydiga bevis för att folken verkligen rituellt firade gudarnas död och uppståndelse, då bevisen för detta oftast härrör från kristna källor och således är sena. Observera dock att inte alla källor är sena utan att det existerar tydliga förkristna belägg. På grund av bland annat den systematiska förstörelse av misshagliga skrifter som de kristna sysselsatte sig med under många århundraden tvingas vi konstatera att vi i många stycken saknar fullständig information om de kultiska ceremonierna. Dessa förrättades också ofta inom de så kallade mysteriereligionerna, vilka till sin natur var slutna och inte förkunnades för utomstående. Men som skall visas tyder det mesta likväl på att den döende och återuppstående guden var en reell företeelse framför allt i det östra medelhavsområdet och i Mesopotamien. Vegetationsgudarnas gärningar följde naturens cykler och det förekom tidigt fester till gudarnas ära vid sådd- och skördetid. Guden dog när naturen blev torr och livlös under den heta sensommaren och föddes på nytt på våren när växtligheten sköt fart. Senare, under mysteriereligionernas tid, dyrkades dessa gudar såsom uppståndna från de dödas rike.
Förenklat kan man säga att det fanns två sorters vegetationsgudar: kvinnliga och manliga. De förra var oftast jordgudinnor, vilka styrde över allt som hade med växtligheten att göra, alla de grödor som gav människor föda i jordbrukssamhällena. De senare var de hornbärande gudarna, vilka vakade över all den boskap som gav kläder, kött, mjölk och andra animaliska produkter.
En annan kategori av gudar var solgudarna. Människornas föreställningar om dessa gudars liv var förbundna med solens rörelse på himlavalvet. Ofta kunde guden vara både vegetations- och solgud. Årets kortaste dag (vintersolståndet), som också är den vändpunkt varefter dagarna blir längre, inföll enligt den julianska kalendern den 24 december, och nästföljande dag ansågs vara inte bara Jesu födelsedag utan även Mithras' och andra solgudars.
Enligt vår nuvarande kalender infaller vintersolståndet antingen den 21 eller 22 december. År 46 fvt införde den romerske kejsaren Julius Caesar (100–44 fvt) en ny kalender. Den gamla räknade med tio månader om cirka 30 dagar med en vintervila emellan. För att korrigera fel i den tidigare kalendern lät man den nya omfatta 12 månader om sammanlagt 365 dagar samt en skottdag vart fjärde år. Den nya julianska kalendern justerades 90 dagar i förhållande till den gamla och lät det nya året börja den 1 januari. Detta innebar en klar förbättring mot tidigare försök att motverka förskjutningar över tiden. Vintersolståndet förlades till den 24 december vilket innebär att den 25 december var den dag man räknade som ljusets återkomst. På denna dag hölls de kanske största hedniska festerna och man firade solens och därmed solgudarnas födelse.
Den nya kalendern var emellertid nästan 11 minuter längre än det verkliga året, varför vintersolståndet efterhand kom att infalla allt tidigare och förskjutas en hel dag på 128 år. Men de gamle fortsatte att fira sina högtider på utsatt dag. Den stora romerska festen var Saturnalia, vilken hölls från den 17 till den 24 december, och år 274 vt införde kejsar Aurelianus firandet av den "oövervinneliga solens födelse" (natalis solis invicti) den 25 december, vilket sammanföll med firandet av den romerske mysterieguden Mithras' födelse.
Den äldsta uppgiften om att också Jesus skulle vara född den 25 december kommer från Hippolytos (ca 165–235 vt).<![if !supportFootnotes]>[1]<![endif]> Och en kalender från 354 vt innehåller ett vittnesmål från år 336 om att Jesus var född just den 25 december.
Med åren försköts den julianska kalendern än mer, och mot slutet av 1500-talet misstämde den med tolv dagar mot vad som gällt när den ursprungligen infördes. År 1582 genomförde påven Gregorius XIII en reform där man avlägsnade 10 dagar (inte de erforderliga 12) och återställde till den ordning som rådde vid mitten av 300-talet då den 25 december antogs som Jesu födelsedag samt bestämde att framöver ta bort tre skottdagar vart 400:e år.
I kristendomens gryning steg vid vintersolståndet stjärnbilden jungfrun upp i östra horisonten. I de gamla soldyrkarsamhällena såg man hur solen åter föddes, och det skedde regelbundet varje år i jungfruns stjärnbild. Det är absolut säkert att solen av många folk betraktats som en gud. Lika säkert är det att solens uppstigande vid vintersolståndet har varit en viktig händelse som beledsagats av ceremoniella tillställningar. Det måste därför vara ett rimligt antagande att man i dessa soldyrkarsamhällen tolkat solens uppstigande i jungfruns stjärnbild som att det var jungfrun som födde solen, vilken i sin tur sågs som en gud. Alltså födde jungfrun guden, eller gudssonen. Likaså kan sägas att solguden hade tolv följeslagare, eller om man så önskar lärjungar, i form av zodiakens tolv stjärnbilder, vilka solen passerar under sin vandring över himlavalvet. Solguden Mithras avbildas oftast tillsammans med de tolv stjärntecknen. De två ekvinoktierna (höst- och vårdagjämningarna) och de två solstitierna (sommar- och vintersolstånden) utgör ett kors i zodiakens cirkel (något Platon omtalar) och vid detta kors kan solguden sägas vara fjättrad, då han ständigt måste följa korsets bana. Alla dessa föreställningar ligger förmodligen till grund för motsvarande kristna föreställningar.
I de flesta äldre religioner finns berättelser om hur en gud befruktar en jordisk kvinna som med jungfrudomen bevarad föder gudens son. Inte heller på den punkten skiljer sig kristendomen från dessa religioner. Som väl är allom bekant, var Maria enligt evangelierna jungfru när hon födde Jesus. Hon befruktades av den heliga ande, som inom kristendomen kom att uppfattas som en del av gudomen. Därigenom kom Jesus att betraktas som "Guds son".
Från kristet håll framhålls att endast Jesus är född av en jungfru och att således hans mor Maria är den enda jungfru i historien som fött ett barn. Man underkänner helt enkelt alla andra berättelser om framstående män och halvgudar, vilka alla fötts genom att en gud befruktat en jordisk kvinna. Det heter att exempelvis Zeus har haft samlag med kvinnorna medan den heliga anden på ett mystiskt sätt har befruktat Maria utan att hennes mödomshinna spräckts. En katolsk idé är att den heliga anden tog sig in i livmodern genom Marias öra. Ej heller var Maria gift, medan många av de andra barnafödande jungfrurna var gifta. Därför, säger man från kristet håll, kan de inte ha varit oskulder. Men vad säger egentligen Bibeln?
I den sjätte månaden blev ängeln Gabriel sänd från Gud till en ung flicka i staden Nasaret i Galileen. Hon hade trolovats med en man av Davids släkt som hette Josef, och hennes namn var Maria. (Luk 1:26f)
Maria och Josef sägs alltså ha varit trolovade och inte gifta. Men att vara trolovad betyder att kvinnan levde tillsammans med mannen i hans familj och troligen ännu inte hade nått 12 ½ års ålder vid vilken hon fick gifta sig. Och även om det inte tillhörde det normala förfarandet, var sexuella förbindelser tillåtna under trolovningstiden. Dessutom säger Bibeln att Jesus hade såväl systrar som bröder, vilka alla i så fall måste ha fötts efter Jesus. Så Maria kan i vilket fall som helst inte ha förblivit oskuld hela livet, även om man på katolskt håll säger att barnen var kusiner och inte syskon till Jesus.
Maria sade till ängeln: "Hur skall detta ske? Jag har ju aldrig haft någon man." Men ängeln svarade henne: "Helig ande skall komma över dig, och den Högstes kraft skall vila över dig. Därför skall barnet kallas heligt och Guds son. (Luk 1:34–35)
Den heliga anden kommer alltså över Maria och hon blir med barn. Det är att märka att i kristen tro anses den heliga anden vara en del av gudomen och det är alltså tekniskt sett Gud som kommer över henne. Själva tillvägagångssättet för barnalstrandet är inte beskrivet i Bibeln, men inte heller finns några beskrivningar av den procedur som förekommer när de andra gudssönerna avlas. Det verkar dock märkligt att gudarna alltid befruktar de jordiska kvinnorna genom att penetrera deras vaginor utom just i fallet Maria. Rimligtvis borde det vara den enklaste vägen att nå livmodern. Självklart föreligger ingen skillnad. En jordisk kvinna blir med barn utan att ha haft samlag med en jordisk man och i stället sägs fadern vara en gud.
Myterna om jungfrufödslar hänger säkert samman med kravet på kvinnans renhet. En kvinna som är sexuellt aktiv kan aldrig vara ren nog att föda ett gudomligt väsen. Därför måste ett manligt gudomligt väsen befrukta den orörda kvinnan. Detta kan av förklarliga orsaker ske endast på ett oförklarligt sätt.
Gautama Buddhas moder Maya var drottning, och Krishnas moder Devaki var av kunglig härkomst. Senare kom de båda att dyrkas som jungfrur. I Frygien ansågs Attis vara född av jungfrun Nana, och den kommande persiske frälsaren Saoshyant förväntades vara jungfrufödd. Rhea Silvia jungfrufödde tvillingbröderna Remus och Romulus, vilkas far sades vara guden Mars.<![if !supportFootnotes]>[2]<![endif]> En annan gud med söner här på jorden var Apollon. Till Apollons söner av en mänsklig moder räknades såväl Pythagoras<![if !supportFootnotes]>[3]<![endif]> och Platon<![if !supportFootnotes]>[4]<![endif]> som kejsar Augustus:
Enligt en berättelse föll den romerske kejsaren Augustus' mor i sömn när hon bad i Apollontemplet och befruktades då av guden. (Suetonius, Lives of the Caesars: Augustus 94, skriven ca 121 vt)<![if !supportFootnotes]>[5]<![endif]>
Zeus sades ha avlat Dionysos, Herakles, Scipio Africanus och Alexander den store.<![if !supportFootnotes]>[6]<![endif]> Också Adonis, Zarathustra, Tammuz och Perseus med flera ansågs vara jungfrufödda:
Och om vi även försäkrar att han [Jesus] föddes av en jungfru, godta detta i likhet med vad du godtar om Perseus. (Justinus Martyren, Apologi, 1:22, skriven på 150-talet vt)
Från kristet håll har man velat avfärda dessa för kristendomen mycket besvärande fakta med att det inte går att bevisa att föreställningarna funnits innan evangelierna skrevs. Allt talar emellertid för att tron på gudssonen som föds av jungfrun är en mycket gammal föreställning som går tillbaka långt före kristendomens födelse.
Dessutom finns texterna från Qumran, Dödahavsrullarna, som alla är äldre än evangelierna. Där finns flera exempel på att rättfärdiga ansågs vara gudssöner (men ingen bestämd man fick titeln Guds son). Den kommande messias (kristus) skulle enligt den apokalyptiska litteraturen vara Guds son. Och vi vet också att det vid denna tid fanns flera män som utgav sig för att vara just Guds son. Det skriver Kelsos om år 178 vt.
Även den kristna föreställningen att Jesus uppstod från de döda efter tre dagar eller på den tredje dagen, är ett lån från grannfolken i medelhavsområdet. Det var en allmänt spridd tro att gudarna föddes vid vintersolståndet (julen) för att dö på våren i samband med vårdagjämningen (påsken). Folket genomlevde en kort sorgeperiod, varefter det gladdes och firade den återuppståndne guden på den tredje dagen eller efter tre dagar.
Förebilden till evangeliernas tro att Jesus uppstod på den tredje dagen fanns sedan tidigare i den egyptiska tron på guden Osiris. Innan kristendomen gjorde entré på scenen fanns i Egypten en föreställning om Osiris såsom en gud som led och dog för mänskligheten, för att sedan återuppstå på den tredje dagen.<![if !supportFootnotes]>[7]<![endif]>
Bland andra gudar, som ansågs ha återuppstått från de döda, kan nämnas Dionysos, Asklepios, Apollonios från Tyana, Herakles, Tammuz från Babylonien, Adonis från Fenicien och Attis från Frygien (på den tredje dagen).
Eftersom ett antal beskrivningar från tiden för kristendomens uppkomst finns bevarade och de arkeologiska fynden tyder på att dessa trosföreställningar förekommit långt tidigare, är det rimligt anta att den bild evangelisterna tecknar av Jesus till stora delar är en modifierad kopia av en mycket gammal föreställning.
Kyrkofadern Justinus Martyren (ca 150 vt) insåg den besvärande likheten mellan de hedniska och kristna föreställningarna. Han löste detta problem genom att helt sonika påstå att djävulen varit framme och spridit detta till hedningarna för att förleda de kristna.<![if !supportFootnotes]>[8]<![endif]> Men de hedniska föreställningarna är äldre än de kristna. Det måste därför betraktas som en enastående bedrift av djävulen att så perfekt imitera de kristna föreställningarna innan de ens uppkommit.
Den sumeriske Dumuzi (i Syrien Tammuz) och den kanaaneiske guden Baal är blott två exempel bland flera på förekomsten av vegetationsgudar. I den sumeriska myten Inannas nedstigande till underjorden berättas om syskonen Geshtinanna och Dumuzi, vilka turas om att leva ena halvan av året i underjorden och den andra halvan ovan jord. Dumuzi dog varje år när naturen somnade in i samband med torkan på vintern. När så växtligheten återkom på våren, ansågs han ha fötts på nytt.<![if !supportFootnotes]>[9]<![endif]>
I Fenicien (nuvarande Libanons och Syriens medelhavskust) tillbad man guden Adon som på grekiska gick under namnet Adonis. Detta är sannolikt samme gud som Dumuzi och Tammuz.<![if !supportFootnotes]>[10]<![endif]> Det finns två berättelser bevarade som skildrar hans liv och död. Enligt den ena, en förkristen, dödas Adonis av ett vildsvin under en jakt. Afrodite finner den döende Adonis och utbrister i sorg: "Din dödsscen kommer att återskapas årligen med min sorg framförd i en ritual".<![if !supportFootnotes]>[11]<![endif]>
I den andra berättelsen föds Adonis av Smyrna, som också kallas Myrrha, efter att hon först förvandlats till ett träd. En av de äldsta formerna för tillbedjan var den av träd. Ett exempel är Dionysos som ofta skildrades såsom upphängd på ett träd eller själv varande trädet. Att hängas på ett trä eller träd är att likställas med att korsfästas. Det finns inget grekiskt ord som svarar exakt mot ordet "korsfästning". I Nya testamentet sägs Jesus antingen ha fixerats vid en påle (grekiska: stauros = en upprätt påle, stör eller stolpe; verbet stauroo = att fästas vid en stauros) eller hängts upp på trä (grekiska: xylon = en träbit eller en bjälke). Det grekiska ordet stauros säger inte om där förekom en tvärbjälke eller ej. Att Jesus spikades upp på ett kors och inte på en påle antas vara fallet enbart för att vi tror att romarna vid den tiden oftast använde pålar med tvärbjälkar. Något sådant sägs emellertid aldrig i NT. Följaktligen finns ingen skillnad mellan den kristna och de hedniska föreställningarna såsom de uttrycks i skrifterna.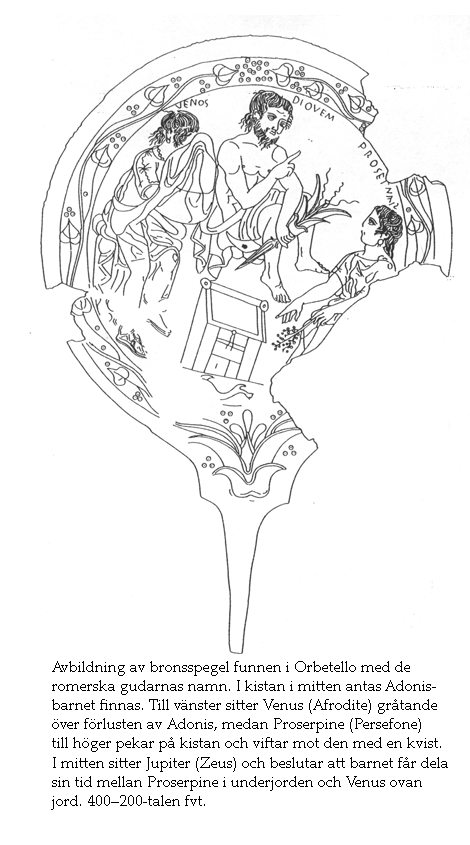 Kärlekens gudinna Afrodite lägger Adonis-barnet i en kista, tar den till Persefone, dödsrikets gudinna, och ber henne vakta barnet en tid. Men när Persefone får se hur vacker Adonis är, vägrar hon att återlämna honom till Afrodite. Dramat slutar med att Zeus får medla och bestämma att Adonis får tillbringa vintern i underjorden tillsammans med Persefone och sommaren ovan jord, bland de levande, tillsammans med Afrodite. Den övriga tiden får han vistas var han vill och väljer då ljuset och värmen ovan jord. Varje vinter tvingas Adonis stiga ner i dödsriket till Persefone och varje vår i samband med växtlighetens återkomst föds han på nytt genom att stiga upp ur dödsriket. Senare dödas Adonis av ett vildsvin.<![if !supportFootnotes]>[12]<![endif]>
Denna berättelse är ungefär samtida med evangelierna, men skriften bygger på den grekiske poeten Panyassis,<![if !supportFootnotes]>[13]<![endif]> vilken skrev på 400-talet fvt, och vi vet att berättelsen är gammal eftersom den återges i bilder på en spegel från Orbetello daterad till senast 200-talet fvt (se bild till höger).<![if !supportFootnotes]>[14]<![endif]>
Nästan alla vittnesbörd om Adonis kommer från klassiska källor vilka ofta är sena. I den grekiska versionen av myten förkommer ingen återuppståndelse. Adonis, som har vanliga dödliga föräldrar, omkommer i en jaktolycka, han begravs och man sörjer hans död. I årligt återkommande begravningshögtider i Aten och troligen också i övriga Grekland sörjde man hans död. I mycket tidiga källor redogörs för hur kvinnorna hamrade sina bröstkorgar i förtvivlan.<![if !supportFootnotes]>[15]<![endif]> Det kultiska firandet inträffade under den torra perioden när vegetationen dog (senare delen av juli) och där fanns möjligen också ett vårfirande.
Men Adonis har sin hemvist i östra medelhavsområdet. Tyvärr finns inga otvetydiga källor från detta område. Adonis innehåller det västsemitiska ordet adon som betyder "herre" och man kan jämföra med judarnas uttryck Adonai, vilket betyder "min herre". Det finns lämningar i Byblos från 900-talet fvt och en anspelning i ett Amarnabrev (nr 84) som kan tyda på att Adonis var en gud som ansågs återuppstå.<![if !supportFootnotes]>[16]<![endif]> Detta är troligt också genom att Adonis är så nära knuten till växtligheten. Den grekiske poeten Theokritos, som var aktiv under första hälften av 200-talet fvt, identifierar Adonis med sädeskornen och säger att Adonis tillbringar sex månader inne i jorden tillsammans med Persefone och sex månader på jorden med Afrodite.<![if !supportFootnotes]>[17]<![endif]> Men Adonis är först och främst en gud som kopplades samman med sterilitet och död.
Enligt Origenes är den grekiske Adonis densamme som judarnas och syriernas Tammuz. Origenes hävdar att …
… de säger att under en lång tid utförs vissa invigningsriter: att de först gråter för hans skull, eftersom han har dött; att de sedan fröjdas för hans skull, eftersom han har uppstått från de döda. (Origenes, Comments on Ezekiel, 8:12; citerat av Richard Carrier)
Enligt Porfyrios (ca 233–309 vt) är Adonis en symbol för skörden av mogen frukt.<![if !supportFootnotes]>[18]<![endif]> Det kultiska firandet verkar även i öster ha skett i juli. Också firande av Dumuzi skedde i juli. Det äldsta otvetydiga belägget för Adonis' uppståndelse kommer från De Syria dea, skriven på 100-talet, möjligen av Lukianos. Där berättas det om kultdeltagarna:
... varje år, till minne av den olyckan [att Adonis dödats av ett vildsvin] dunkar de sig på bröstkorgarna och sörjer och förrättar ceremonierna, och över hela landet hörs högtidlig klagan. Och det första de gör efter att bröstdunkningen och gråten är tillända är att offra till Adonis som till en död person; och sedan, nästa dag, förkunnar de att han lever och hämtar fram honom i det fria ... (Lukianos från Samosata [ca 120–185 vt], De Syria dea, 6)
Enligt denna redogörelse firade man årligen Adonis' återuppståndelse och den synes ha firats på den andra dagen. Men Mettinger, liksom tidigare Baudissin, tolkar De Dea Syria 6 som att möjligen den tredje dagen avses.<![if !supportFootnotes]>[19]<![endif]> Med detta kan man påstå att utövarna av Adoniskulten i öster hävdade att deras gud hade återuppstått från de döda och att allt tyder på att den föreställningen är förkristen.
En av de mer framträdande asiatiska modergudinnorna var Kybele. Centrum för kulten av Kybele låg i Frygien i dagens Turkiet. Kulten fanns också i grannlandet Lydien. Kybeles älskare (i någon version son) var den unge herden Attis.
Också Attis uppvisar alla tecken på att vara en vegetationsgud. Det finns två olika berättelser om hans liv. Enligt den ena skildringen (från Lydien) är Attis en kastrerad präst hos gudinnan Kybele och han inviger folk i kulten. Senare dödas Attis av ett vildsvin, liksom var fallet med Dumuzi eller Tammuz, Adonis och även den egyptiske guden Osiris.<![if !supportFootnotes]>[20]<![endif]>
I den andra berättelsen (från Frygien) omtalas en gudinna vid namn Agdus som våldtas av Zeus och föder en tvåkönad varelse som får namnet Agdistis. Denna varelse är mycket våldsam, varför de andra gudarna låter hugga av den dess manliga könsorgan så att den förvandlas till Kybele. Ur det blod som flyter från Agdistis växer ett granatäppelträd eller möjligen ett mandelträd. Senare plockar Nana, dottern till en flod-ande, frukten eller mandlarna och lägger dem i sin famn, varigenom hon blir gravid och i sinom tid föder Attis.<![if !supportFootnotes]>[21]<![endif]> Tekniskt sett är detta en paranormal<![if !supportFootnotes]>[22]<![endif]> befruktning. Zeus gör på omvägar Nana gravid utan att hon har haft sexuellt umgänge med en man, och hon kan därför betraktas som en jungfru som föder en gudsson.
Attis växer upp, och modergudinnan Kybele (det vill säga den kastrerade Agdistis) förälskar sig i honom. De kärleksbekymmer som detta ger upphov till driver Attis till att kastrera sig (eller kastrerar Kybele honom) och han sjunker ner under ett pinjeträd och dör. Enligt en legend förvandlas han till ett träd.<![if !supportFootnotes]>[23]<![endif]>
Uppenbarligen kom föreställningen om Kybele och Attis att bilda en kult som senast år 204 fvt nådde Rom.<![if !supportFootnotes]>[24]<![endif]> Enligt Livius (59 fvt–17 vt) tillägnades Kybele detta år ett tempel i Rom.<![if !supportFootnotes]>[25]<![endif]> Under kejsar Claudius' tid vid makten (41–54 vt) upphöjdes kulten till en officiell statskult bland andra kulter.
Enligt inskriptioner från Rom men även från Pessinus bar översteprästen namnet Attis. De stora festerna till Kybeles och Attis' ära förekom i slutet av mars vid vårdagjämningstiden. Själva tillställningen var blodig. Man slaktade en tjur och sprutade blodet över deltagarna i något slags rituell handling som skulle kunna liknas vid ett dop. Det finns även skildringar av hur prästerna sargade sina egna armar, och troligen förekom också kastreringar av såväl präster som andra invigda.
Den 22 mars fördes ett träd till Kybeles helgedom. Med tanke på att Attis betraktades som ett träd kan vi gissa att detta symboliserade Attis (upphängd på ett träd). Nästa dag, den andra dagen, blåste man i trumpeter. Den tredje dagen (den 24 mars) kallades blodsdagen, och det var nu man skar sig i armarna och offrade sitt blod. Vid mörkrets inbrott började den stora glädjefesten "hilaria", och den fortsatte nästa dag, den 25 mars, vilken också räknades som vårdagjämningen.
Bevisen för att dessa inslag i firandet av Attis funnits före kristendomens uppkomst är främst arkeologiska. De tidigaste skrivna redogörelserna härrör från 100- eller 200-talet vt. Tyvärr tvingas vi leva med det faktum att mycket litet skriftligt material om detta finns bevarat till vår tid. Inte minst "de kristna" har varit grundliga i sin systematiska förstörelse av misshagliga skrifter. Från kristet håll påpekas att det inte finns något belägg för att man firat Attis' uppståndelse från de döda. Frågan blir i så fall vad man firade på den tredje dagen efter att tidigare ha sörjt. Det råder inget tvivel om att Attis var en döende gud och att man högtidlighöll hans död varje år. Rimligtvis måste han ha återuppstått för att kunna dö på nytt. I början av 500-talet säger Damaskios i Isidores liv att hilaria "visar vägen för vår frälsning undan [dödsrikets gud] Hades".<![if !supportFootnotes]>[26]<![endif]> Och på 300-talet omtalar Firmicus Maternus att "den de tidigare hade begravt [Attis] hade väckts till liv igen".<![if !supportFootnotes]>[27]<![endif]>
Vi ser här hela mönstret för Jesusgestalten: en gud i mänsklig gestalt föds av en jungfru, väljer självmant att dö, spilla sitt blod, hängas upp på ett träd (kors) och sedan återuppstå. Vi vet också från exempelvis Justinus Martyren att man senast i mitten av 100-talet besvärades oerhört av att inte endast Jesus utan även andra gudar ansågs vara jungfrufödda, ha återuppstått från de döda och rest till himlen.
Osiris är en egyptisk gud vars existens är belagd redan på 2000-talet fvt. Han var dödsrikets härskare. På 300-talet fvt hade kulten av Osiris spridit sig till Grekland, ty år 333 fanns ett tempel i Aten tillägnat Osiris och hans kvinnliga följeslagare Isis.<![if !supportFootnotes]>[28]<![endif]> Religionen gjorde sitt inträde i Rom på nollhundratalet fvt, även om den då sannolikt hade tagit en delvis annorlunda skepnad.
I hela den egyptiska litteraturen finns inte en enda fullständig framställning av Osiris-myten, en sammanhängande berättelse av hans liv, död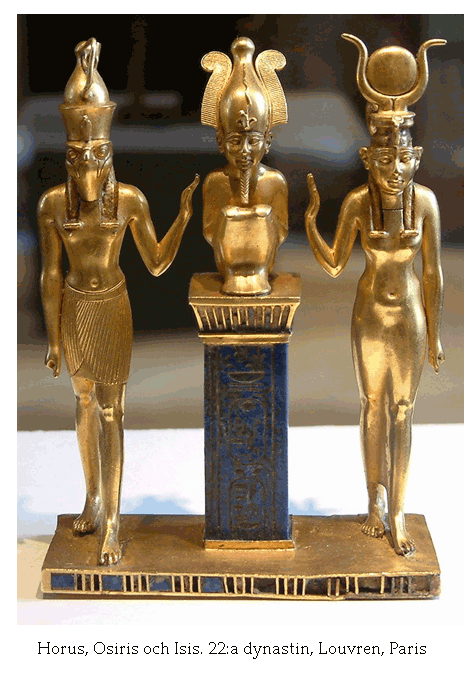 och uppståndelse. Detta tyder forskarna vanligen så att myten var så välkänd av egypterna att de inte behövde få den nedtecknad i sin helhet. Vår viktigaste källa för information om Osiris är därför Plutarchos som skrev ca år 100. Men också från Apuleius (strax efter 150 vt) och Firmicus Maternus (ca 345 vt) kommer värdefull information. Även hieroglyfer på pyramidväggarna synes berätta i stort sett samma myt. Historien förtäljer att guden Hermes gör Rea havande och hon föder Osiris, vilken utropas som alltets herre och varande en mäktig och välgörande kung. Osiris uppfostras av självaste Zeus.<![if !supportFootnotes]>[29]<![endif]>
Osiris mördas av sin bror Set, hans kropp lemlästas och delarna sprids. Osiris' hustru Isis samlar ihop alla delar (utom könsorganen som inte återfinns) och gudarna fogar dem samman, varefter Osiris återuppstår. Han reser till underjorden och blir där de dödas herre. Redan tidigt (100-talets mitt) fanns en uppfattning om att också Jesus efter sin uppståndelse stigit ner i dödsriket innan han for till himlen. Det finns dock en viktig skillnad mellan Osiris och de andra gudarna. Osiris återuppstår endast i dödsriket, och det är aldrig frågan om ett liv på jorden. Han förblir hela tiden en död gud men för ett aktivt liv i dödsriket. Trots detta hävdar Plutarchos att Osiris lämnade dödsriket för att söka sig vidare till en osynlig och ren sfär, dit också de rena själarna söker sig.<![if !supportFootnotes]>[30]<![endif]>
Osiris dödades genom att han lurades att krypa ner i en kista, vilken man spikade igen och skickade ut på Nilen. Detta skedde enligt Plutarchos den sjuttonde dagen i månaden athyr.<![if !supportFootnotes]>[31]<![endif]> När Plutarchos skrev bör 17 athyr ha svarat mot 13 november. I Egypten ansåg man att Osiris försvunnit i athyr, och den 17 athyr inledde man en sorgeperiod. Den nittonde dagen i månaden athyr tar man kistan ner till Nilen, häller litet vatten i den, varefter jubel utbryter över att Osiris är återfunnen.<![if !supportFootnotes]>[32]<![endif]> Osiris dog alltså den 17 athyr och den dagen sågs som den första dagen. Det betyder att den 19 athyr var den tredje dagen och att Osiris därför liksom Jesus ansågs ha återuppstått på just den tredje dagen.
Även utanför Egypten, i Grekland, fanns ett kultiskt firande av Osiris. Plutarchos säger att "Osiris är densamme som Dionysos".<![if !supportFootnotes]>[33]<![endif]> På hösten hölls en stor högtid till Osiris' ära, ett firande av hans död, återuppståndelse och pånyttfödelse:
... berättelserna beträffande titanerna och riterna som firas om natten stämmer överens med beskrivningarna om lemlästningen av Osiris och hans återuppvaknande och pånyttfödelse. (Plutarchos, De Iside et Osiride, 35)
I samband med denna högtid, Inventio Osiridis, där folket tillsammans med "Isis" sörjde Osiris, utlovade prästerskapet frälsning från helvetet,<![if !supportFootnotes]>[34]<![endif]> från sorg och lidande.<![if !supportFootnotes]>[35]<![endif]> Folket erbjöds också tröst och hjälp,<![if !supportFootnotes]>[36]<![endif]> allt tack vare Osiris' frivilliga död.<![if !supportFootnotes]>[37]<![endif]>
Osiris och Isis fick en son vid namn Horus. Horus var en solgud, och som sådan ansågs han vara född den 25 december, vid vintersolståndet.<![if !supportFootnotes]>[38]<![endif]> Åtminstone är detta den tolkning James George Frazer gör i The Golden Bough utifrån inskriptioner och föremål.<![if !supportFootnotes]>[39]<![endif]>
Jesusgestalten äger en sida som Paulus synes vara ovetande om men som evangelieförfattarna lyfter fram i ljuset. Det är Jesu förmåga att göra under. Hela berättelsen i Markusevangeliet är uppbyggd på underverken, och detta i en sådan utsträckning att berättelsen inte hålls samman, ifall man utesluter dessa. Enligt evangelierna botar Jesus sjuka, döva, blinda, lama och stumma. Han gör alldeles som sägs i Jesaja att den kommande messias skall göra:
Då skall de blindas ögon öppnas och de dövas öron höra. Då skall den lame hoppa som en hjort och den stumme brista ut i jubel. (Jes 35:5–6)
Jesus driver också ut demoner, förvandlar vatten till vin, trollar fram mat, stillar stormar och går på vattnet. Han rentav uppväcker folk från de döda.
Förebilderna fanns sedan tidigare i bland andra profeterna Elia och Elisa. Liksom Jesus vistas Elia i öknen i fyrtio dagar och fyrtio nätter utan mat (1 Kung 19:4–8). Elia föder en hel familj under lång tid med endast en handfull mjöl och litet olja (1 Kung 17:10–16). Elisa mättar hundra män med tjugo bröd och några sädesax, och ändå blir det mat över (2 Kung 4:42-44). Båda uppväcker folk från de döda (1 Kung 17:17–23, 2 Kung 4:17–37). Elisa botar spetälska (2 Kung 5:6–14) och förvandlar bittert vatten till friskt och hälsosamt (2 Kung 2:19–22). Elia tas levande upp till himlen i en stormvind (2 Kung 2:11).
Den tidens sätt att tänka präglar tydligt berättelsernas innehåll. Jesus gjorde helt enkelt de underverk som samtiden ansåg att profeter kunde utföra. I dag skulle en dylik gudsgestalt inte behöva driva ut demoner ur en människa för att bota henne. Det visar sig också att det i samtida litteratur står att finna paralleller till alla de underverk som evangelierna tillägger Jesus.
Jesus' far var den högste guden JHVH, Jesus' mor den jordiska kvinnan Maria. Trots att hon är trolovad med Josef befruktas hon av JHVH, vilken låter sin heliga ande komma över henne. Jesus betraktas därför som Guds son. En ängel uppenbarar sig för såväl Josef som Maria och berättar att barnet i Marias mage är tillkommet genom gudomlig befruktning och att Maria fortfarande är jungfru.
Josef och Maria reser från Nasaret till Betlehem, där Maria föder Jesusbarnet i ett stall, ett hus eller en grotta. Vid födelsen förekommer himmelska mirakler med änglar och en stjärna som leder visa män till barnet. Även herdar uppsöker den nyfödde som ligger i en krubba. För att undkomma en despot tvingas familjen fly till Egypten, och därefter återvänder man till Nasaret.
När Jesus är tolv år gammal undervisar han de judiska skriftlärda i templet, och de förundras över hans stora visdom. Som vuxen döps han i floden Jordan av sin förelöpare Johannes döparen. Därefter tillbringar han 40 dygn fastande i ödemarken och frestas av djävulen men motstår frestelsen och påbörjar sedan sin mission.
Jesus samlar omkring sig tolv lärjungar, varav tre anses förmer och en är älsklingslärjungen. Jesus och hans lärjungar vandrar runt i Galileen, och Jesus undervisar folket, framför allt genom liknelser. Ofta konfronterar han de skriftlärda.
Jesus hjälper också människor i nöd. Han botar människor med alla sorters sjukdomar, dem som är döva, blinda, lama och spetälska. Han driver ut demoner och uppväcker folk från de döda. Han förmår även att utföra andra mirakler som att frambringa vin och mat, gå på vattnet och stilla stormar.
Inför sina främsta lärjungar genomgår Jesus en förvandling (förklaringen på berget). Jesus är en lidande "gud", och han förutser sitt öde, vilket han också självmant väljer, då det är oundvikligt.
Tillsammans med sina lärjungar går han till Jerusalem och tar sig in i staden ridande på en åsna under folkets jubel. Han besöker därefter templet och driver ut månglarna. Dagarna tillbringar han inne i staden, där han utmanar fariseerna och skaffar sig många fiender. Nätterna tillbringar han tillsammans med sina närmaste strax utanför staden. Inför påskhögtiden äter han, som den judiska seden påbjuder, en påskmåltid tillsammans med lärjungarna. Lärjungen Judas förråder Jesus genom att överlämna honom till det judiska högsta rådet. Jesus förhörs av judarna och befinns skyldig till att ha hädat och utgett sig för att vara Gud. Han överlämnas till den romerska styrande makten och förhörs på nytt av ståthållare Pilatus, vilken finner honom oskyldig. Trots detta avrättas Jesus genom att korsfästas, och hans kropp förs till en närbelägen grav. På den tredje dagen återuppstår han och visar sig för sina lärjungar. Därefter stiger han upp till sin fader i himlen.
Asklepios är enligt grekisk mytologi läkekonstens fader. Hans förmåga att bota människor sträckte sig bortom döden från vilken han kunde uppväcka människor. För detta lät Zeus döda honom. Men Asklepios återuppstod från hades<![if !supportFootnotes]>[40]<![endif]> och upphöjdes till gud och till odödlighet.<![if !supportFootnotes]>[41]<![endif]>
På en inskription funnen i Epidauros och stammande från tidigt 200-tal fvt skriver en viss Isyllos att Asklepios' moder, den jordiska kvinnan Aigle – som också kallas Koronis för att hon är så vacker – blev våldtagen av guden Apollon. Resultatet av deras korta samvaro blev Asklepios.<![if !supportFootnotes]>[42]<![endif]> Enligt Pindaros har prinsessan Koronis som jungfru ett förhållande med guden Apollon och blir havande med gudens barn. Ändå lever Koronis tillsammans med sin älskare Iskhys, en vanlig dödlig man.<![if !supportFootnotes]>[43]<![endif]> Även Asklepios är följaktligen en gudsson. På 100-talet vt skriver reseskildraren Pausanias att Koronis föder Asklepios på en resa till Epidauros. Bländande ljus omger barnet och varnar den herde som först anländer för att vidröra det.<![if !supportFootnotes]>[44]<![endif]>
Kulten av Asklepios fanns i Grekland redan på 500-talet fvt och utbredde sig kraftigt under de två följande århundradena. Folk vallfärdade till asklepiostemplen, vilka var ett slags antikens kurorter. Från att i början ha betraktats som endast läkare och frälsargud kom Asklepios med tiden, liksom Jesus, att betraktas såsom Herre,<![if !supportFootnotes]>[45]<![endif]> räddare, hjälpare och överhuvudtaget frälsare.<![if !supportFootnotes]>[46]<![endif]>
Det är osäkert om Asklepios sågs som en döende och från de döda uppstående gud. Han var nära förbunden med den feniciska läkeguden Eshmun och de två betraktades av grekerna som samma gud. Eshmun var en vegetationsgud, och liksom Attis stympas han för att sedan återställas på nytt. Detta innebär inte nödvändigtvis att Eshmun var en döende gud, men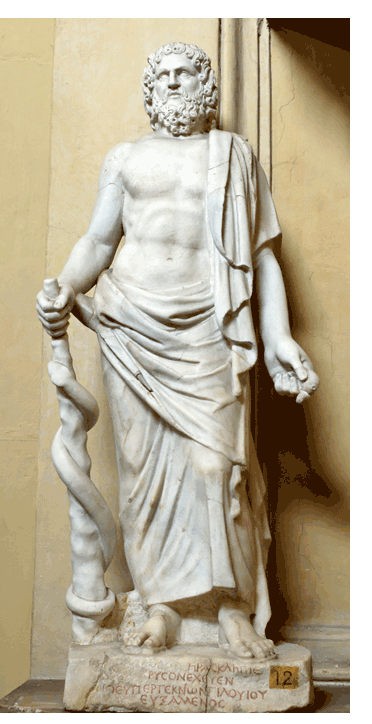 troligen sågs han ändå som en döende gud, då ett ortnamn verkar ha bevarat minnet av en kultplats kallad "Eshmuns grav".<![if !supportFootnotes]>[47]<![endif]> Och enligt den iranske naturvetaren och historikern al-Biruni, som skrev i början av tiohundratalet, skall den grekiska läkaren Galenos, som levde i slutet av hundratalet vt, ha skrivit att Asklepios lyftes upp till änglarna i en eldpelare på samma sätt som skedde med "Dionysos, Herakles och andra".<![if !supportFootnotes]>[48]<![endif]> Så det är möjligt, men långt ifrån säkert, att även Asklepios sågs som en gud som dog för att därefter återuppstå från de döda.
De talrika underverk Jesus enligt evangelierna sägs ha utfört synes vara blott kopior av Asklepios' underverk. Asklepios botade de sjuka genom att beröra dem. Ena gången gjorde han det genom att sträcka ut handen, andra gången genom att lägga handen på den som var sjuk, eller trycka in sitt finger i den sjuka kroppsdelen.<![if !supportFootnotes]>[49]<![endif]> Ofta krävdes, liksom vid Jesu botande, att den sjuka personen själv trodde för att kunna botas.<![if !supportFootnotes]>[50]<![endif]>
Enligt inskriptioner från Epidauros och andra vittnesbörd (bl.a. Justinus Martyren)<![if !supportFootnotes]>[51]<![endif]> botade Asklepios alla sorters sjuka, däribland lama,<![if !supportFootnotes]>[52]<![endif]> stumma<![if !supportFootnotes]>[53]<![endif]> och blinda.<![if !supportFootnotes]>[54]<![endif]> Han kunde bota även dem som befann sig på andra platser. De sjuka bar själva iväg sina bårar efter att de botats. Asklepios botade såväl gammal som ung, fattig som rik, kvinna som man, slav som fri och vän som fiende.<![if !supportFootnotes]>[55]<![endif]>
Även Asklepios uppväckte folk från de döda.<![if !supportFootnotes]>[56]<![endif]> Berättelserna om de fem (eller möjligen sex) personer<![if !supportFootnotes]>[57]<![endif]> han uppväckte är i många detaljer samstämmiga med vad evangelierna förtäljer om de tre gånger Jesus gjorde detsamma.<![if !supportFootnotes]>[58]<![endif]> Exempelvis var många vittnen närvarande; de icke-troende utgick ifrån att personerna varit skendöda; de uppväckta fick något att äta etc.<![if !supportFootnotes]>[59]<![endif]> Lucius Apuleius berättar i Florida 19, hur Asklepios avbröt en begravning och uppväckte en flicka från de döda, en berättelse som mycket liknar den i Markus 5:21-43, där Jesus återuppväcker Jairos' dotter.
För de tidiga kristna måste det ha varit besvärande att höra att alla de underverk, som de påstod att Jesus gjort, redan utförts av Asklepios och dessutom än storslagnare. Asklepios, vars själ, liksom Herakles', "levde vidare och åtnjöt evigt liv".<![if !supportFootnotes]>[60]<![endif]>
<![if !supportFootnotes]><![endif]> Apollonios från Tyana
Apollonios var en stor undergörare och en (yngre) samtida med evangeliernas Jesus (kanske ca 2 – 99 vt). Han föddes i Tyana, en stad belägen i nuvarande sydöstra Turkiet, inte långt från Paulus' födelsestad Tarsos. Genom åren har flera personer ansett att Apollonios var den verklige Jesus. Denna uppfattning var tydligen så levande att Eusebios ca 310 vt ansåg sig tvungen att skriva verket Mot Hierokles, en nyplatoniker som hävdade att evangelierna var plagiat av framför allt anteckningar gjorda av Apollonios' lärjunge Damis. Och det är inte så underligt att Apollonios och Jesus blandats samman, ty de båda gestalterna påminner onekligen om varandra.
I början av 200-talet tecknades Apollonios' levnadshistoria av Filostratos (ca 170–245 vt) i Vita Apollonii på uppdrag av kejsarinnan Julia Domna. Underlaget sägs ha varit framför allt anteckningar gjorda av denne lärjunge Damis. Men det hävdas också att Apollonios själv efterlämnat böcker, och ur dessa har flera citerat, däribland Porfyrios.<![if !supportFootnotes]>[61]<![endif]> Kända är också ett stort antal brev, som påstås härröra från Apollonios. Det är dock inte så troligt att de verkligen är skrivna av Apollonios. Flera författare berättar om Apollonios, däribland Dio Cassius, Lukianos från Samosata och Anastasius Sinaiticus.<![if !supportFootnotes]>[62]<![endif]>
Enligt Filostratos' biografi var Apollonios pytagoré (Vita Apollonii 1:7), dvs. han utgick i sin förkunnelse från en grekisk variant av den esoteriska läran, den av Pythagoras utformade hylozoiken. Apollonios var skäggprydd, långhårig och en renlevnadsmänniska, nykterist och vegetarian. Han gick barfota, iklädd endast linnedräkt (1:8).
Redan Apollonios' födelse är ett mirakel med himmelska uppenbarelser (1:5).<![if !supportFootnotes]>[63]<![endif]> Medan modern ännu är havande, uppenbarar sig guden Proteus för henne och tillkännager att han är fadern (1:4).<![if !supportFootnotes]>[64]<![endif]> Även Apollonios var således en gudsson. Det framgår dock inte om Apollonios jungfruföddes.
Som 14-åring reser han till asklepiostemplet i Aigai. Där för han filosofiska resonemang med bland andra platoniker och pytagoreer, och man förundrar sig över hans stora visdom (1:7). Han vet mer än präster och profeter (1:19, 5:5).<![if !supportFootnotes]>[65]<![endif]> Som vuxen skaffar han sig lärjungar som kallas apollonier (8:21), och dessa följer honom på hans vandringar. Han predikar i Mindre Asien, Syrien, Grekland och Rom och reser också till Indien; hans lära är etiskt högtstående; han talar gärna i liknelser (4:9), och han anses vara allvetande (7:14, 3:18). Han vet varifrån hans själ kommer och varthän den går (8:7:7); han är medlidande (1:15, 6:39); han tyder drömmar och händelser (1:23, 4:34); han kan alla språk (1:19) och förstår även djurens (1:20, 3:9, 4:3). Han känner människors tankar (1:19, 7:22) och exempelvis genomskådar en usel människa, som ger stora gåvor i asklepiostemplet (1:10). En rik ung man visar han rikedomens värdelöshet (5:22), och han ingriper också mot blodiga offer (1:1ff,10,31ff, 3:41, 4:19, 5:25).
Av folket betraktas han såsom sänd av Gud och själv varande en gud (1:2, 3:50). Han presterar underverk liknande dem Jesus sägs ha utfört. De människor han möter på sin vandring hjälper han genom att bota dem. De visa män han umgås med botar lama och blinda (3:39).<![if !supportFootnotes]>[66]<![endif]> Själv driver han ut onda andar (4:20), botar en pojke med rabies (6:43), och liksom Jesus (Luk 9:11–17) avbryter han en begravning av en ung flicka och uppväcker henne från de döda genom att vidröra henne (4:45).<![if !supportFootnotes]>[67]<![endif]> Berättelser om undergörare, som avbröt begravningar och återuppväckte de döda, var vanliga vid denna tid.
Apollonios vet vad som sker på andra platser (5:30), vet att kejsar Domitianus mördas (8:26),<![if !supportFootnotes]>[68]<![endif]> kan ögonblickligen förflytta sig från en plats till en annan (8:5ff) och kan också sväva över jordytan (3:15,17). Även naturen förmår han behärska, då han hindrar uppkomsten av jordbävningar (6:41) och stormar på havet (4:15).
För sina vänner förutspår han sitt tillfångatagande och sin kommande dom (7:10). I Rom grips han, förhörs, anklagas för att vara trollkarl (och ha utgett sig vara gud) och fängslas (7:16–22). Man rakar av honom skägget och håret (7:34), klär av honom naken och ställer honom inför rätta i palatset hos kejsar Domitianus. Åklagaren mutas med pengar. Liksom Jesus, som knappt besvarade Pilatus' frågor (Joh 19:9, Matt 27:14), ignorerar Apollonios kejsaren totalt. Och liksom Pilatus ansåg Jesus vara oskyldig (Joh 18:38, 19:4–6, Luk 23:4), anser kejsaren att Apollonios är oskyldig. Då säger Apollonios, liksom Jesus sade till Pilatus (Joh 19:11), att kejsaren inte har någon makt över honom<![if !supportFootnotes]>[69]<![endif]> och försvinner sedan på ett mirakulöst sätt (8:3–5).
Apollonios lever vidare i ytterligare flera år och reser bland annat till Olympen där han hyllas av hela Hellas (8:15). Slutligen dör han, fast Filostratos vet inte när, var och hur, och stiger upp till himlen från Diktynnatemplet på Kreta (8:30). Efter sin död uppenbarar han sig för en tvivlande lärjunge (8:31). Liksom Thomas tvivlaren i Joh 20:24ff blir även denna lärjunge förvissad om att gudssonen verkligen är uppstånden.
Många har sett Filostratos' beskrivning av Apollonios som ett försök att kopiera Jesu liv, att man som en reaktion mot kristendomen har valt att fabulera ihop en saga om en hednisk frälsargestalt. Genom att framställa Apollonios som likvärdig Jesus ville man visa att Jesus inte var något unikum. Detta är dock inte speciellt sannolikt, då kristendomen knappast var en så mäktig rörelse när Filostratos skrev att man från officiellt håll skulle ha ödslat kraft på en sådan uppgift. Det är också tydligt att flera beståndsdelar i berättelsen, som att Apollonios utförde mirakler, var kända långt tidigare. Men vill man ändå acceptera denna tankegång, måste man i ärlighetens namn också acceptera att Jesusgestalten i evangelierna tillkommit på liknande sätt. Ty Bibel-Jesus är i många stycken en kopia av tidigare frälsare. Ett tydligt exempel på en sådan frälsare är Herakles.
Den grekiske guden Herakles är för de flesta känd under sitt latinska namn Hercules (försvenskat Herkules). Legenden säger att han utförde tolv stordåd. Mindre känt är att det redan på 500-talet fvt fanns en blomstrande religion – en kult av Herakles som världens frälsare.<![if !supportFootnotes]>[70]<![endif]>
Melkart (stadens konung) är en mycket gammal gudom och var den främsta guden i Tyros, en antik stad i Fenicien vilket svarar ungefär mot dagens Libanon. Han dyrkades även i Karthago. Melkart kan betraktas som såväl en sol- som en vegetationsgud. Det finns ett mycket nära släktskap mellan Melkart och Herakles. Faktum är att de grekiska författarna oftast benämner Melkart den tyriske (eller feniciske) Herakles. Det är heller inte alltid lätt att avgöra vilken av gudarna de avser eftersom de ibland skriver bara Herakles och ändå avser Melkart. I många stycken har gudarna smält samman.
Alltifrån början betraktades Herakles som mänsklighetens försonare och Guds son. Berättelserna om hans liv kom med tiden att utvidgas och ytterligare idealiseras av bland andra stoikerna. Vid vår tidräknings början var tron spridd över stora delar av medelhavsområdet, bland annat i Grekland, Syrien och Rom.
Likheterna mellan Jesus' och Herakles' liv är stora. Herakles' moder, en kvinna vid namn Alkmene, blir havande genom förening med en gud, i detta fall Zeus, och föder Herakles.<![if !supportFootnotes]>[71]<![endif]> Herakles är således en Guds son. Liksom Jesus har även Herakles en jordisk styvfar vid namn Amfitryon. Denne rör emellertid inte sin hustru förrän den gudomliga befruktningen skett (då hon fortfarande är jungfru),<![if !supportFootnotes]>[72]<![endif]> liksom Josef inte rörde Maria (Matt 2:4ff). Herakles' jordiska föräldrar företar en vandring från sin hemstad Mykene<![if !supportFootnotes]>[73]<![endif]> till staden Thebe, där Zeus gör Alkmene havande och hon föder ett gossebarn.<![if !supportFootnotes]>[74]<![endif]> Det var vanligt att jungfrusöner föddes i samband med flykter eller resor. Så var exempelvis fallet när den egyptiska gudinnan Isis födde Horus.<![if !supportFootnotes]>[75]<![endif]> Ehuru Jesus enligt evangelierna föds i Betlehem, kom han att kallas Jesus från Nasaret. Även Herakles anses härröra från sin faders hemstad Mykene, trots att han föds i Thebe,<![if !supportFootnotes]>[76]<![endif]> och han kallas "Amfitryons son".<![if !supportFootnotes]>[77]<![endif]>
När Herakles sett dagens ljus, får gudinnan Hera, tillika Zeus' maka, höra att en konung av hennes stam är född. Med vetskap om att Zeus är fadern, driven av svartsjuka och rädsla att förlora sin makt till den nye konungen, försöker hon döda Herakles. Liksom Jesus' föräldrar flydde med Jesus till Egypten för att undgå Herodes' förföljelse och efter Herodes' död återvände till Palestina, låter Herakles' moder för att undgå Heras förföljelse gömma undan Herakles. Gudinnan Athena återlämnar senare barnet till modern.<![if !supportFootnotes]>[78]<![endif]>
Innan Herakles börjar sin offentliga verksamhet (att utföra de tolv storverken), vistas han – liksom Jesus – en lång tid i ensamhet. Under denna tid utsätts han för frestelser, och liksom Jesus övervinner han dem.<![if !supportFootnotes]>[79]<![endif]> Av Hermes förevisas Herakles konungens och tyrannens riken från ett högt berg, för att välja rätt väg i livet.<![if !supportFootnotes]>[80]<![endif]> Detta öde drabbar som bekant även Jesus, då djävulen från ett högt berg visar honom de jordiska rikenas härlighet och lovar att allt kan bli hans (Matt 4:8).
Såväl Jesus som Herakles har ett uppdrag från sin himmelske fader att fullfölja, och båda uppfyller också sin faders vilja.<![if !supportFootnotes]>[81]<![endif]> Bekräftelsen på uppdraget erhåller de båda på profetisk väg, Herakles från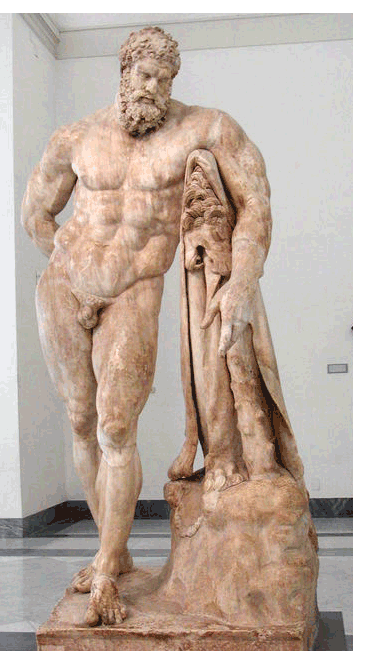 oraklet och Jesus från profeten Jesajas bok.<![if !supportFootnotes]>[82]<![endif]> Bägges väg kommer att bli lidandets.<![if !supportFootnotes]>[83]<![endif]> Herakles kallas för frälsaren.<![if !supportFootnotes]>[84]<![endif]> Liksom Jesus går han på vattnet,<![if !supportFootnotes]>[85]<![endif]> och han uppväcker Alkestis från de döda,<![if !supportFootnotes]><![endif]><![if !supportFootnotes]>[86]<![endif]> men hans stora gärning är att övervinna döden, och hans död leder till ett evigt liv.<![if !supportFootnotes]>[87]<![endif]> Deianeira, Herakles' maka och den person som orsakar hans död, fylls liksom Judas Iskariot av förfäran och ånger och hänger sig.<![if !supportFootnotes]>[88]<![endif]>
Det finns två traditioner om Melkarts eller Herakles' död, vilka båda är förkristna. Enligt den ena dödas han av det hundrahövdade monstret Tyfon,<![if !supportFootnotes]>[89]<![endif]> enligt den andra bränns han till döds på ett bål på ett berg. Sofokles ger vittnesmål om att Herakles dött i en eld på berget Oita (ett 2152 meter högt berg i centrala Grekland).<![if !supportFootnotes]>[90]<![endif]> Samma uppgift ger Diodorus Siculus, och han berättar också om Herakles' himmelsfärd.<![if !supportFootnotes]>[91]<![endif]>
Det fanns också ett kultiskt firande kring Melkart eller Herakles. Enligt en inskription från ca 500 fvt, funnen i den etruskiska (italienska) staden Pyrgi, omtalas att man i månaden krr (sannolikt juli) rituellt begravde en icke namngiven gud som troligen var Melkart.<![if !supportFootnotes]>[92]<![endif]> Josefus säger att man firade den tyriske Herakles' uppvaknade i månaden peritius (mitten av februari till mitten av mars).<![if !supportFootnotes]>[93]<![endif]> Mycket talar för att man i Tyros firade Herakles', eller rättare sagt Melkarts, återuppståndelse från de döda.<![if !supportFootnotes]>[94]<![endif]> Och sofisten Zenobios (100-talet vt) citerar Eudoxos från Knidos (ca 408–ca 355 fvt), vilken ska ha skrivit att den tyriske Herakles återuppväcktes efter att ha dött i en eld.<![if !supportFootnotes]>[95]<![endif]> Detta tyder på att Melkart eller Herakles sågs som en vegetationsgud, vilken tillbringade en del av året ovan jord och den andra i underjorden.
Jesus korsfästs på Golgata, en kulle utanför Jerusalem. Herakles bränns på berget Oita. När Herakles dör, är både hans moder<![if !supportFootnotes]>[96]<![endif]> och älsklingslärjunge där.<![if !supportFootnotes]>[97]<![endif]> Enligt Johannes 19:25ff är förhållandet detsamma vid Jesu död. Innan Herakles dör, ropar han till sin himmelske fader:
… spiritum admitte hunc, precor, in astra – – – vocat ecce iam me genitor et pandit polos; venio, pater (Seneca, Hercules Oetaeus, 1703–4, 1724–6, Loeb)
Enligt Luk 23:46 ropar Jesus innan han dör: "Fader, i dina händer lämnar jag min ande." Innan de dör, säger de båda gudssönerna: "Det är fullbordat."<![if !supportFootnotes]>[98]<![endif]> Vid såväl Herakles' som Jesus' död inträffar både en jordbävning och en solförmörkelse.<![if !supportFootnotes]>[99]<![endif]> Efter sin död återuppstår Herakles och ropar: "Hör nu upp med din klagan, moder! … Det höves mig nu att gå upp till de himmelska nejderna", vilket han senare också gör.<![if !supportFootnotes]>[100]<![endif]> Den uppståndne Jesus säger till Maria Magdalena: "Varför gråter du, kvinna? … jag stiger upp till min fader" (Joh 20:15–17). Även uppgiften i Johannes 19:26–27 att älsklingslärjungen tog sig an den dödes mor återfinns i Herakleslegenden.<![if !supportFootnotes]>[101]<![endif]>
Framför allt Johannesevangeliets författare har lånat mycket från Herakleskulten. Ordet logos,<![if !supportFootnotes]>[102]<![endif]> som är så viktigt i Johannesevangeliets inledning, är ett lån från stoikerna och fanns även inom Heraklesreligionen. När det i Joh 3:17 står: "Ty Gud sände sin son till världen inte för att döma världen utan för att världen skulle räddas genom honom" skall det ses i ljuset av vad Cornutus under nollhundratalet skrev: "Ty Logos är där inte för att skada eller straffa utan för att rädda".<![if !supportFootnotes]>[103]<![endif]>
<![if !supportFootnotes]><![endif]> Dionysos
Dionysos var först och främst vinets och berusningens gud. Men han var också en gud som gav de döende tröst. Han sågs som fredsbringare<![if !supportFootnotes]>[104]<![endif]> men även som en lidande, döende och från de döda uppstående gud.<![if !supportFootnotes]>[105]<![endif]> Dionysoskulten hade ett betydande inflytande i Grekland redan på 600-talet fvt, och det äldsta belägget sträcker sig ända tillbaka till linear-B-tavlorna på Kreta från 1200-talet fvt. Kulten spreds snart över stora delar av Medelhavsområdet.<![if !supportFootnotes]>[106]<![endif]> I exempelvis Rom fanns år 186 fvt ca sju tusen anhängare.<![if !supportFootnotes]>[107]<![endif]>
Dionysos hade samme fader som Herakles, nämligen alla gudars fader Zeus. Hans moder var den jordiska kvinnan Semele.<![if !supportFootnotes]>[108]<![endif]> Det sägs aldrig uttryckligen att Semele var en jungfru, utan endast att Zeus älskade med henne.<![if !supportFootnotes]>[109]<![endif]> Å andra sidan omtalas heller inte motsatsen, och Zeus påstås ha gjort henne gravid genom att slunga en blixt som träffade hennes livmoder.<![if !supportFootnotes]>[110]<![endif]> Liksom den gudomliga kraften från den högste romerske guden Zeus gjorde Semele gravid, gjorde också den gudomliga kraften från judarnas högste gud JHVH Maria gravid genom att den heliga anden kom över henne.
Det lilla jesusbarnet ligger lindat i en krubba (Luk 2:12ff). Detta är ett välkänt motiv. Det gudomliga Hermes-barnet sägs ligga lindat i en krubba,<![if !supportFootnotes]>[111]<![endif]> och Zeus' moder Rhea svepte in en sten i lindor för att förleda titanen Kronos till att tro att det var den nyfödde Zeus.<![if !supportFootnotes]>[112]<![endif]> Vid de stora festerna till Dionysos' ära bars även han i en krubba (en sädesvanna). <![if !supportFootnotes]>[113]<![endif]>
Dionysos betraktades som läkare, botande de sjuka, och en gud som tröstar de döende. Han kallas Herren<![if !supportFootnotes]>[114]<![endif]>, Guds barn,<![if !supportFootnotes]>[115]<![endif]> Guds son<![if !supportFootnotes]>[116]<![endif]> i mänsklig gestalt<![if !supportFootnotes]>[117]<![endif]> och den sanne Guden.<![if !supportFootnotes]>[118]<![endif]> I Euripides' skådespel Backanterna framstår Dionysos som den lidande vinrankan.<![if !supportFootnotes]>[119]<![endif]> Han betecknas ibland också som frälsare, men det är knappast synder han frälser ifrån.<![if !supportFootnotes]>[120]<![endif]>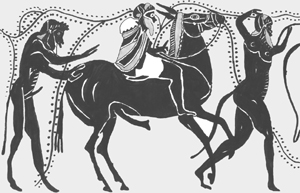 På målningar – ofta på vaser – på mynt och i skulpturer avbildas Dionysos ridande på en åsna, ofta i procession där folkmassan (satyrer) viftar med kvistar av murgröna. Han befinner sig till skepps och avbildas tillsammans med torkade fikon. Detta är välkända motiv från jesusberättelsen och senare kristna bilder av Jesus. Liksom Jesus porträtteras Dionysos såväl som en vacker yngling som en skäggprydd man.<![if !supportFootnotes]>[121]<![endif]>
Dionysos och vinet. Dionysos var nära förbunden med vinet och kallades "Vinstocken".<![if !supportFootnotes]>[122]<![endif]> Författaren av Johannesevangeliet lät kalla Jesus för "den sanna vinstocken" (Joh 15:1) sannolikt i avsiktlig polemik mot just dionysoskulten.
Johannes berättar också att Jesus vid bröllopet i Kana förvandlade vattnet i sex hundraliterskärl till vin (Joh 2:1ff). Som Euripides intygar 500 år före evangeliernas tillkomst, flödar landskapet av vin när Dionysos framträder.<![if !supportFootnotes]>[123]<![endif]> Enligt flera källor, nästan alla något äldre än eller samtida med evangelierna, frambringar Dionysos vin ur bland annat vatten. I mitten av nollhundratalet fvt skriver Diodoros att det i Teos flödar vin ur en källa vid vissa fastställda tider och att detta enligt invånarna i Teos är ett bevis för att Dionysos fötts i staden.<![if !supportFootnotes]>[124]<![endif]> Ovidius skriver år 1 vt att den italiske guden Liber, vilken var samme gud som Dionysos, gav Anius' döttrar förmågan att förvandla allt de vidrörde till bland annat vin.<![if !supportFootnotes]>[125]<![endif]> Plinius den äldre berättar år 77 vt att det i dionysostemplet på ön Andros i Grekland finns en källa som varje år den 5 januari i samband med Theodosia-högtiden flödar av vin.<![if !supportFootnotes]>[126]<![endif]> Ungefär samtidigt skriver Plutarchos att den nyfödde Dionysos badades i ett vatten som var klart och vinfärgat och mycket gott att dricka.<![if !supportFootnotes]>[127]<![endif]> Och i mitten av hundratalet skriver Pausanias att dionysosprästerna i Elis brukade lämna tre tomma kärl i ett låst rum över natten för att morgonen därpå finna dem fyllda med vin<![if !supportFootnotes]>[128]<![endif]>.
Det kultiska firandet. I Johannesevangeliet står att läsa:
Jesus svarade: "Sannerligen, jag säger er: om ni inte äter Människosonens kött och dricker hans blod äger ni inte livet. Den som äter mitt kött och dricker mitt blod har evigt liv, och jag skall låta honom uppstå på den sista dagen. Ty mitt kött är verklig föda, och mitt blod är verklig dryck. (Joh 6:53–55)

Detta är ett märkligt uttalande som knappast går att tolka bokstavligt. Men dionysosanhängarna lät i en sakramental handling slita isär ett stycke kött och äta det rått, allt för att vinna odödlighet.<![if !supportFootnotes]>[129]<![endif]> Och i en version av dionysosmyten sliter titanerna sönder det lilla dionysosbarnet och äter upp dess lemmar, varefter Zeus återupplivar Dionysos.
Gajas söner [titanerna] slet den gud som var son till Zeus och Demeter [dvs. Dionysos] i stycken och kokade honom, men Demeter samlade ihop hans kroppsdelar, och han upplevde en ny födelse som om den vore den första. (Diodorus Siculus, Bibliotheca Historica, 3:62; citerat av Beck Sanderson)
Diodoros talar alltså om "en ny födelse" och han säger vidare att detta kan spåras tillbaka till vissa orsaker i naturen. Dionysos framställs som "den två gånger födde" (Dimetor) eftersom han är en vegetationsgud. Den första födseln är när plantan (vinrankan) gror och den andra när frukten är mogen och klar att skörda. Dionysos anses därför "ha fötts en gång av jorden och en gång av vinet".<![if !supportFootnotes]>[130]<![endif]>
Och liksom Jesus, vars kropp och blod förtärdes i form av bröd och vin, betraktades också Dionysos och Ceres (gudinnan som beskyddade jordens växtkraft) som den gudomliga substansen i det vin och det bröd som åts.<![if !supportFootnotes]>[131]<![endif]>
Dionysos' uppståndelse. Dionysos ansågs ha återuppstått efter sin död. På ön Thasos i nordöstra Grekland finns en gammal inskription som talar om Dionysos som en gud som varje år återupplivas och återvänder föryngrad.<![if !supportFootnotes]>[132]<![endif]> Han ansågs därefter ha stigit till himlen. Den kristne apologeten Justinus Martyren bekräftar cirka 150 vt att dessa föreställningar förekom, men han förnekar samtidigt att de skildrade händelserna verkligen inträffat och anser att djävulen förfalskat grekernas skrifter:
Ty när de säger att Jupiters [latin för Zeus] son Bacchus [latin för Dionysos] avlades genom [Jupiters] samlag med Semele, och att han upptäckte vinrankan; och när de berättar att han efter att ha slitits i stycken och ha dött återuppstod igen och steg till himlen; och när de inför vin i hans mysterier, uppfattar jag då inte att [Djävulen] har imiterat den profetia som kungjordes av patriarken Jakob och upptecknades av Mose? (Justinus Martyren, Dialog med juden Tryfon, 69)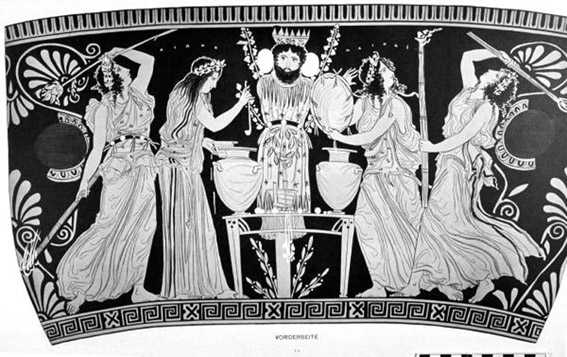 Korsfästelse eller upphängning på en stolpe, ett trä eller ett träd synes utgöra en beståndsdel i många mytologiska berättelser. Liksom Marsyas från Frygien och Prometheus från Kaukasus<![if !supportFootnotes]>[133]<![endif]> hörde Dionysos till de korsfästa gudarna. Redan före den kristna tidräkningen dyrkades en korsfäst Dionysos. Vinet på korset är ett välkänt motiv och Dionysos var vinet.<![if !supportFootnotes]>[134]<![endif]> Han finns avbildad på flera vaser, däribland denna vas från 420-talet fvt, upphängd på en trädstam (eller möjligen själv varande trädet) över ett altarbord. På bordet finns vinkärl (och en annan vas med samma motiv visar också något brödliknande) som troligen skall användas för att fira mysteriernas heliga nattvard.<![if !supportFootnotes]>[135]<![endif]> Dionysos korsfäste i sin tur sin konkurrent Lykurgos från Thrakien.
... och fångade Lykurgos levande, stack ut hans ögon och tillfogade honom varje tänkbar skada och korsfäste honom sedan. (Diodorus Siculus, Bibliotheca Historica, 3:65)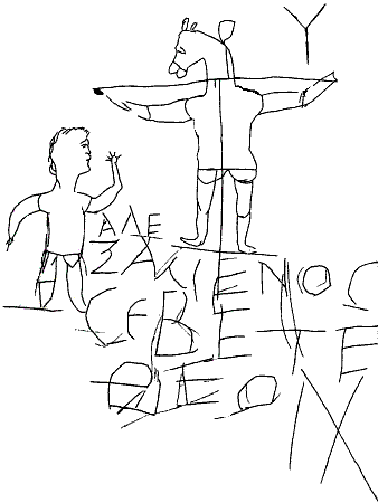 Först sent i historien förekommer avbildningar av Jesus hängande på korset. Våra äldsta belägg är tidigast från 400-talet. Det finns dock ett mycket omskrivet väggklotter från Rom gjort någon gång under perioden från nollhundratalet till tvåhundratalet. Bilden föreställer en människa med ett åsnehuvud upphängd på en korsliknande ställning. Nedanför står en pojke. Klottret brukar tolkas som en nidbild av att de kristna dyrkade en korsfäst åsna, det vill säga Jesus. Men denna tolkning är långt ifrån oproblematisk.
För det första finns det inga belägg för att man i bildkonsten verkligen framställde Jesus upphängd på ett kors förrän tidigast på 400-talet. För det andra fanns en gammal föreställning om att judarna tillbad en åsna eller ett åsnehuvud. Från 200-talet fvt till 200-talet vt upprepas denna anklagelse mot judarna många gånger av både grekiska och romerska författare. Under hundratalet överförs beskyllningen också på de kristna, vilka den stora majoriteten såg som judar.
En annan omständighet är tecknet Y uppe i bildens högra hörn. De gnostiska sethianerna, som tillbad guden Tyfon-Seth, hade åsnehuvudet som en symbol, och på det stora antalet avbildningar i Rom med guden Tyfon-Seths åsnehuvud förekommer alltid symbolen Y till höger om åsnehuvudet.<![if !supportFootnotes]>[136]<![endif]>
Men framför allt kan åsnan kopplas samman med kulten av Dionysos eller Bacchus. Åsnan avbildas ofta tillsammans med Dionysos och betraktades som helig. Den var en symbol för att de kroppsliga lidelserna upphörde genom döden.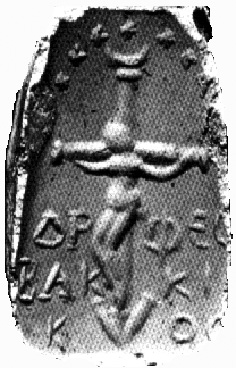 I "Kaiser Friedrich"-museet i Berlin fanns fram till andra världskriget en liten amulett med en korsfäst Dionysos. Amuletten är daterad till 200-talet och i så fall äldre än alla framställningar av Jesus som korsfäst (tidigast 400-talet). Men flera av dåtidens experter misstänkte att den var en förfalskning.<![if !supportFootnotes]>[137]<![endif]> Då amuletten är försvunnen och vi endast har den återgivna avgjutningen går det i dag inte att avgöra frågan om amulettens äkthet.
Justinus kände till flera hedniska gudssöner, exempelvis Zeus' söner, vilkas respektive död var fylld av kval och lidande och enligt hans åsikt i detta avseende liknade Jesu död. Han hävdar dock att gudssönerna dog på olika sätt och att hedningarna inte imiterade korsfästelsen, eftersom de uppfattade den symboliskt.<![if !supportFootnotes]>[138]<![endif]> Antingen de är symboler eller ej, avbildas vinrankan Dionysos på en påle och sägs vinet hänga på korset. Legenden om Jesu korsfästelse får följaktligen ses som en utveckling av legenden om Dionysos' korsfästelse.<![if !supportFootnotes]>[139]<![endif]>
<![if !supportFootnotes]><![endif]> Mitra, Mithra och Mithras
I det forna Indien, i det gamla persiska riket och senare i det stora romerska riket fanns tre kulter, som alla dyrkade en gud med likartat namn. I de indiska vedaskrifterna kallas han Mitra och i den persiska Avesta Mithra. I båda fallen rörde det sig om en personifiering av solen och sannolikt om samme gud. Den äldsta skrivna källa som nämner Mitra är från ca 1400 fvt, men kulten av denne gud är sannolikt mycket äldre.
Mitra och Mithra. Den indo-persiske Mithra var från början en mindre gudom men arbetade sig upp till att bli en av de främsta. Han betraktades som en fridfull och välvillig gud,<![if !supportFootnotes]>[140]<![endif]> en sanningens väktare,<![if !supportFootnotes]>[141]<![endif]> världens ljus,<![if !supportFootnotes]>[142]<![endif]> Herre över de ödsliga betesmarkerna<![if !supportFootnotes]>[143]<![endif]> och allas vän.<![if !supportFootnotes]>[144]<![endif]> Han var en allseende och allvetande gud. Solen var hans öga, och med detta betraktade han världen, när han reste med sin vagn över himlen.<![if !supportFootnotes]>[145]<![endif]> Senare kom han att anta en något mer krigisk form och fick en roll som medlare mellan de andliga tvillingbröderna Ohrmazd (Ahura Mazda), vilken representerade godheten, och Ahriman (Angra Mainyu), ondskans gud (föregångaren till den judisk-kristna djävulen). I detta skede anförtroddes Mithra uppgiften att föra själarna till paradiset och demonerna till helvetet och var därmed tekniskt sett en frälsare.<![if !supportFootnotes]>[146]<![endif]>
Mithras' ursprung. Senare framträdde i Romarriket en mysteriekult som kretsade runt frälsaren Mithras. Enligt Plutarchos vördades Mithras av sicilianska pirater, och generalen Pompejus' soldater förde mithraskulten till Rom år 67 fvt.<![if !supportFootnotes]>[147]<![endif]> De gamla romarna hävdade att mithraskulten kom från Persien.<![if !supportFootnotes]>[148]<![endif]> Men många av dagens forskare står av flera anledningar tvivlande till den uppgiften. Man anser det vara en ny rörelse och att Mithras endast har några få drag gemensamma med den persiske Mithra, däribland namnet. I stället misstänker vissa att guden Perseus var den egentlige Mithras. Trots uppgiften om år 67 fvt ser vi de första tecknen på den gryende Mithraskulten först i slutet av nollhundratalet vt (ungefär samtidigt som evangelierna skrevs) i form av skulpturer och inskriptioner. Eftersom det i detta fall rörde sig om en mysteriekult, hölls läran hemlig, och därför grundar sig vår kännedom om rörelsen i huvudsak på arkeologiska lämningar och i viss mån kritikers efterlämnades skrifter.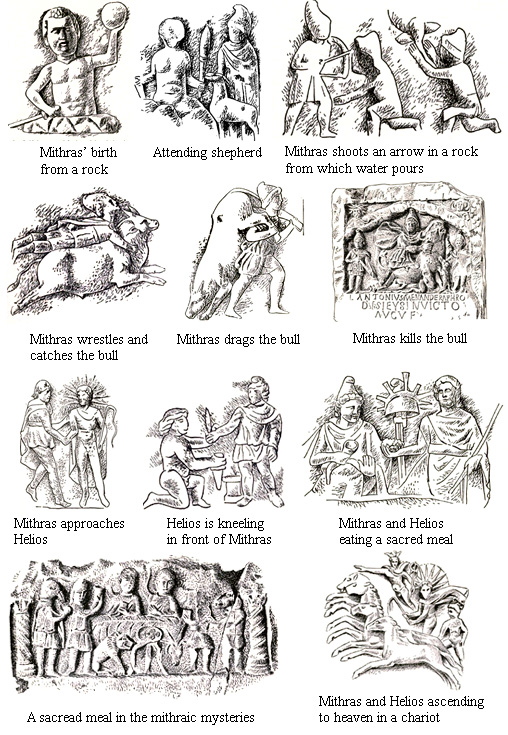 Den romerska kulten av Mithras var under alla omständigheter en konkurrent till den tidiga kristendomen. Den rönte därför samma öde som exempelvis gnostiken. När kristendomen på 300-talet antogs som statsreligion, undertrycktes mithraismen för att senare förbjudas. Anhängarna förföljdes, helgedomarna skövlades och kristna kyrkor uppfördes ovanpå ruinerna. Om den mithraiska kyrkan ägde några skrifter, har dessa i alla fall inte överlevt till vår tid.
Mithras' födelse. Som den solgud Mithras var, ansågs han ha fötts dagen efter årets mörkaste dag, vintersolståndet. På 200-talet firades hans födelse den 25 december enligt den då gällande julianska kalendern. Denna dag antog kyrkan senare, på 300-talet, som Jesu födelsedag. Mithras ansågs ha fötts i eller ur en klippa och kom därför att kallas "den ur klippan födde".<![if !supportFootnotes]>[149]<![endif]> Följdenligt dyrkade man honom i grottor eller byggnader utformade att likna grottor. Även Jesus ansågs tidigt ha fötts i en grotta. Redan i mitten av 100-talet finns detta belagt hos Justinus Martyren. Origenes och det apokryfiska Jakobsevangeliet hävdar detsamma.<![if !supportFootnotes]>[150]<![endif]> Ordet klippa, som på grekiska är Petros (latin: Petrus) och på arameiska Kefas, var enligt Paulus namnet på en församlingsledare i Jerusalem och i evangelierna uppges Petrus ha varit Jesus' främste lärjunge. Paulus kallar även Jesus för klippa (1 Kor 10:4).
Mithras föds vuxen och klar. Vid hans födelse strålar han eller möjligen klippan av ett gudomligt ljus. Enligt Matteusevangeliet ledde stjärnan över Betlehem några österländska magiker till Jesusbarnet. Magiker från öster pekar entydigt på Persien, varifrån Mithra stammar. Jesusbarnet besöks dessutom av herdar. Mithras' födelse övervakas av fåraherdar, och de ger Mithras frukter och sina hjordar. Gamla bevarade monument visar på just detta.
Mithras' gärningar. Den romerske Mithras utförde ett underverk, nämligen att frambringa rinnande vatten ur en klippa. De flesta gestaltningar av Mithras handlar dock om tjuren. Mithras brottas med tjuren, varefter han släpar den till grottan. I nästa scen har han betvingat tjuren och befinner sig ovanpå den med kniven i högsta hugg. Därefter offrar Mithras tjuren genom att sticka sin dolk i den, samtidigt som han tittar bort. I nästa scen ser vi solguden Helios knäböja inför Mithras. Sedan äter Mithras en sista måltid tillsammans med solguden Helios, där de dricker blodet och äter köttet av tjuren. Efter detta reser Mithras och Helios till himlen i en vagn.
Sakramenten. Inom den romerskas mithraskulten fanns flera sakrament. Eftersom det fanns sju invigningsgrader,<![if !supportFootnotes]>[151]<![endif]> är det troligt att också sakramenten var sju till antalet. Där fanns åtminstone ett dop med vatten, genom vilket anhängarna ansåg sig befrias från sina synder,<![if !supportFootnotes]>[152]<![endif]> en konfirmation och en nattvard, där man som en rituell handling åt bröd och drack vatten ur en kopp.<![if !supportFootnotes]>[153]<![endif]> Överhuvudet kallades Pater Patrum, fädernas fader, och han hade liksom senare den katolske påven (Papa = fader) sitt säte i Rom.<![if !supportFootnotes]>[154]<![endif]> Inom mithraismen fanns en tro på själens odödlighet och sannolikt även på en uppståndelse.<![if !supportFootnotes]>[155]<![endif]> En inskription i ett mithreum, troligen från senare delen av 100-talet, visar att man synes ha lovat anhängarna odödlighet: "Och även oss räddade [frälste] du genom att utgjuta det eviga blodet [av tjuren]."<![if !supportFootnotes]>[156]<![endif]>
Mithras' uppståndelse. Det framhålls att det inte finns några belägg för att Mithras uppstod från de döda, eftersom det inte finns några belägg för att han var en döende gud. Men inom nästan alla mysteriereligioner genomgick de invigda en symbolisk död, varefter de ansågs pånyttfödda. Att så var fallet också inom mithrasmysterierna kan vi sluta oss till av att kejsar Commodus, vilken regerade 180–192 vt,
... besudlade de mithraistiska riterna med ett äkta dråp, under det att seden i dem endast är att säga eller att låtsas något för att skapa en anblick av skräck. (Aelius Lampridius, [tidigt 300-tal] Vita Commodi Antonini)<![if !supportFootnotes]>[157]<![endif]>
Han dödade alltså någon på riktigt i stället för som brukligt på låtsas. Tertullianus säger dessutom att "en bild [symbol] av återuppståndelsen" användes i ceremonierna kring den romerske Mithras.<![if !supportFootnotes]>[158]<![endif]> Om man både har en rituell död och en rituell återuppståndelse inom kulten av Mithras, är det svårt att dra någon annan slutsats än att man ansåg att Mithras först hade dött och därefter återuppstått. Om Mithras dessutom egentligen är Perseus blir det än troligare att han anses ha uppstått, enär Justinus påstår att hedningarna hävdade att Perseus uppstått från de döda.<![if !supportFootnotes]>[159]<![endif]>
Stjärnkartan. Den viktigaste händelsen inom den romerska Mithraskulten är när Mithras dödar tjuren. Orsaken till tjurslakten står att finna på himlavalvet.<![if !supportFootnotes]>[160]<![endif]> Det visar sig att Mithraskulten byggde på astrologi. På stentavlor, så kallade tauroktonier som egentligen är stjärnkartor, avbildas Mithras ovanpå tjuren. Runt om finns de tolv zodiaktecknen, vilka alltid beledsagar en solgud.
Inom kristendomen talas i stället om Jesu tolv lärjungar, vilka går tillbaka till Israels tolv stammar; en gestaltning av zodiakens tolv tecken. Under Mithras avbildas förutom tjuren (stjärnbilden Oxen) också en hund, en orm, en kopp, en korp, en skorpion och ett lejon. Alla dessa svarar mot bestämda stjärnbilder.<![if !supportFootnotes]>[161]<![endif]>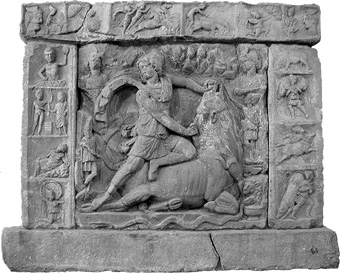 Perioden ca 4000–2000 fvt var Oxens tidsålder. Vid vårdagjämningen, då dagar och nätter är lika långa överallt på jorden, såg våra förfäder solen stiga upp i Oxens tecken. Mithras var starkt förknippad med solen och var en solgud. Under denna epok och vid tiden för vårdagjämningen låg de ovan nämnda stjärnbilderna, och endast dessa, längs en på himlen tänkt linje som svarar mot jordens ekvator, på eller under den bana som solen och månen synes följa längs himlavalvet. Undantaget är Lejonet, som då befann sig på platsen för sommarsolståndet. Möjligen avser koppen inte Crater (Bägaren) utan i stället Vattumannen (vattenbäraren), som vid den tiden befann sig i vintersolståndet (då både Jesus och Mithras ansågs ha fötts).
Det unika förhållande som här beskrivs rådde alltså endast i Oxens tidsålder. På grund av dagjämningspunkternas precession (se faktaruta) hade förhållandena för 4000 år sedan (ca 2000 fvt) ändrats så, att solen vid vårdagjämningen steg upp i Väduren i stället för i Oxen. Våra förfäder måste någon gång ha gjort denna upptäckt, och detta har troligtvis legat till grund för den vitt spridda föreställningen om dödandet av oxen eller tjuren. När man gjorde denna iakttagelse, lät man döda en oxe som en symbol för att man inträtt i en ny tidsålder, eller kanske för att blidka de himmelska gudarna. Oxen dog och väduren föddes.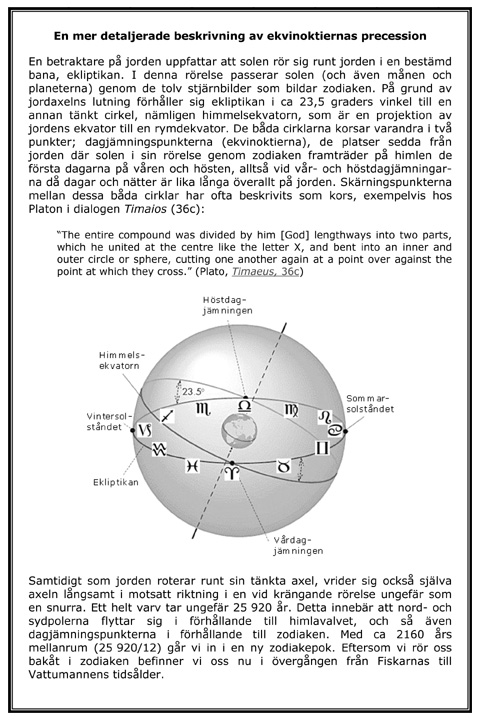 Även i de indiska Veda-skrifterna och i den persiska Avestan omtalas att en tjur slaktas, och ur dennes kropp sägs alla växter och djur födas. Ingen persisk text säger dock att Mithra dödar tjuren. Den som dödar tjuren är Ahriman (Angra Mainyu), den kosmiska ondskans kraft.<![if !supportFootnotes]>[162]<![endif]> I de indiska skrifterna inbjuds Mitra att deltaga i dödandet, och han hjälper motvilligt de andra gudarna att döda tjuren.<![if !supportFootnotes]>[163]<![endif]> Den indopersiska föreställningen att en tjur skulle dödas levde tydligen på något sätt kvar långt senare i de romerska Mithrasmysterierna, eller så upptogs idén från andra tjurdödarkulter. På stjärnkartor (tauroktonier) låter Mithras, som för övrigt befinner sig där guden Perseus' stjärnbild är belägen,<![if !supportFootnotes]>[164]<![endif]> sticka sin dolk i oxen på en punkt som svarar mot stjärnbilden Plejaderna.
I kristendomens gryning hade vårdagjämningen flyttat ytterligare ett tecken, från Väduren till Fiskarna. Tanken ligger nära till hands att man då lät slakta väduren (lammet) och den nya tidens symbol blev fisken. Detta är sannolikt grunden till att Mithras slaktar tjuren (Oxen) och även att Jesus (lammet eller väduren) slaktas på korset.
Offerlammet. Vid det traditionella judiska påskfirandet, före templets förstörelse år 70 vt, slaktades ett lamm till tackoffer åt Gud. Jesus sågs alltifrån den kristna rörelsens början som ett offer för världens frälsning, lammet som offrades för världen. I Uppenbarelseboken används genomgående bilden av Jesus som ett offerlamm. I Johannes 1:29 står att läsa: "Nästa dag såg han Jesus komma och sade: 'Där är Guds lamm som tar bort världens synd". Och före evangeliernas tillkomst skriver Paulus; "Ni är ju osyrade, ty vårt påsklamm, Kristus, är slaktat" (1 Kor 5:7).
Den högste solguden. Mithras gestaltas ofta tillsammans med solguden Helios, vilken symboliserade solen. Mithras kan därför rimligtvis inte ha varit själva solen. En trovärdig teori, som presenterats av David Ulansey, är att Mithras representerar en andra sol. Medan Helios är solguden kallas Mithras "sol invictus", den oövervinneliga solen.
Redan Platon verkar ha förutsatt två solar, dels den vanliga synliga, dels en så kallad "hyperkosmisk" sol, vilken ligger i en högre sfär.<![if !supportFootnotes]>[165]<![endif]> Denna högre sfär ligger utanför kosmos och ifall Mithras går att identifiera med denne högste solgud, kommer han att betrakta kosmos utifrån. Detta skulle också förklara det faktum att tjuren i alla avbildningar är spegelvänd i förhållande till stjärnbilden oxen på himlen. Sedd "utifrån" är den rättvänd. Därmed skulle den sten Mithras föds ur vara kosmos, vilken Mithras tar sig ut ur, liksom en kyckling ur ett ägg. Vi människor befinner oss inne i den grotta (kosmos), vilken Mithras fötts i och tagit sig ut ur. Själv betraktar han kosmos utifrån.<![if !supportFootnotes]>[166]<![endif]> Överensstämmelsen mellan Mithrasmyten och Platons liknelse om de i grottan instängda människorna, varav endast en förmår fly ur "fängelset" in i ljuset, är tydlig.<![if !supportFootnotes]>[167]<![endif]>
Redan på Alexander den stores tid förekom ett livligt handelsutbyte mellan Indien och framför allt Främre Orienten men även Grekland. Där förekom också missionärsverksamhet, och buddhismen var känd i Rom redan på 100-talet fvt. Även om parallellerna mellan Jesus' och Buddhas liv inte får dras allt för långt, är det troligt att många av de buddhistiska legenderna var välkända i väst i kristendomens gryning.<![if !supportFootnotes]>[168]<![endif]> Likheterna mellan dessa båda gudssöners liv visar också på en viktig sak, nämligen att många av berättelserna är välkända myter, allmängiltiga för alla kulturer.
Legenderna om Buddha nedtecknades först på pali och sanskrit och översattes tidigt till bland annat kinesiska och tibetanska. Indiska skrifter är mycket svåra att datera. Indierna själva har aldrig varit noggranna med dateringar. Oftast är texterna anonyma, och även när man vet vem författaren var, vet man sällan exakt när denne levde.
I följande sammanställning över Buddhas liv har material, som både är äldre och yngre än evangelierna, använts.<![if !supportFootnotes]>[169]<![endif]> Merparten av skrifterna tillhör den huvudsakligen förkristna Tipitakan (pali) eller Tripitakan (sanskrit). Texter som Buddhacharita stammar från 100-talets början medan Lalitavistâra, Jâtaka och Nidânakathâ troligen har nedtecknats på 200- eller 300-talet vt. Men man måste alltid ha i minnet att varje text, varje berättelse, sannolikt existerat som allmänt kulturgods långt innan vi känner den. Den äldre indiska litteraturen består överhuvudtaget inte alls av nyskapade individuella verk. Alla texter bygger på äldre material, ibland i form av försvunna handskrifter och, inte minst, ofta mycket gamla muntliga traditioner.
Man kan alltså hävda att skrifterna har en förhistoria, där hopsamlat gods i något skede har nedtecknats och fått status av auktoritet. Med dessa förbehåll skall jag här jämföra vissa av evangelieberättelserna med vad som står att finna i äldre indisk litteratur.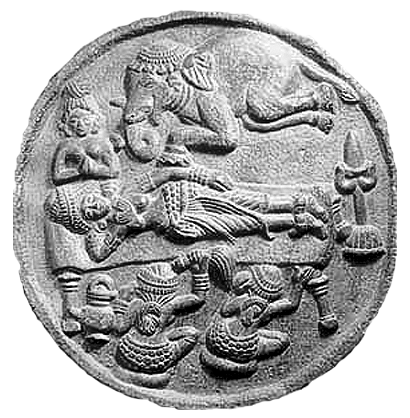 Buddhas födelse. Siddhârtha Gautama,<![if !supportFootnotes]>[170]<![endif]> den mest kände buddhan, tros ha levt någon gång mellan sent 600-tal och tidigt 200-tal fvt. Han uppehöll sig liksom Jesus som andeväsen i himlen före sin ankomst till jorden. Han inkarnerade frivilligt för att frälsa världen. Hans moder var drottning Maya, som senare kom att betraktas som jungfru. Hon ansågs ha befruktats av ett gudomligt väsen i form av en vit elefant, vilken tog sig in genom hennes högra sida.<![if !supportFootnotes]>[171]<![endif]> Buddhas avlelse kan därför betraktas som "obefläckad", då Mayas man Suddhodana inte var Buddhas far, utan liksom Josef endast styvfar. Maya var också oåtkomlig, hade inga sinnliga tankar om män och levde som jungfru i 32 månader.<![if !supportFootnotes]>[172]<![endif]> Hieronymus (ca 347–420 vt) säger att Buddha "föddes genom sidan på en jungfru".<![if !supportFootnotes]>[173]<![endif]> Buddha kom följaktligen att betraktas som Guds son.
Buddha föds när hans moder är på resa för att besöka sina föräldrar,<![if !supportFootnotes]>[174]<![endif]> och änglar eller gudar förkunnar för drottning Maya att hon har fött en mäktig son.<![if !supportFootnotes]>[175]<![endif]> Buddhabarnet strålar av ett bländande ljus och hyllas från himlen.<![if !supportFootnotes]>[176]<![endif]> Visa män ser tecken på att en gud eller en buddha har fötts. Man söker honom över stora områden och betygar honom sin vördnad.<![if !supportFootnotes]>[177]<![endif]>
Buddhas barndom. Buddha är av kunglig släkt (prins). Fastän Jesus inte är en prins, sägs han ändå härstamma från kung David. Som små hyllas de båda av en gammal vis man, Jesus i templet av Symeon och Buddha i palatset av profeten Asita.
Lukas 2:25–34

I Jerusalem fanns en man vid namn Symeon, som var rättfärdig och from ... och den heliga anden hade uppenbarat för honom att han inte skulle se döden förrän han hade sett Herrens Messias. Ledd av Anden gick han till templet, och när föräldrarna kom in med barnet Jesus ... tog han honom i famnen och prisade Gud och sade: "Herre, nu låter du din tjänare gå hem i frid, som du har lovat. Ty mina ögon har skådat frälsningen som du har berett åt alla folk, ett ljus med uppenbarelse åt hedningarna och härlighet åt ditt folk Israel." ... Detta barn skall bli till fall eller upprättelse för många i Israel ...

Suttanipata 689ff

Den långhårige vise betraktade barnet och med stor glädje tog han upp honom ... en man som nu, fylld av välbehag, höjde sin röst och sade: Denne är unik, den mest framstående människan! Just då mindes eremiten att han snart skulle dö, och detta gjorde honom så ledsen att han började gråta ... Denne pojke kommer att uppnå den fullständiga upplysningen; han som ser vad som är renast, kommer av medlidande för de mångas frälsning [välfärd] att låta lärans hjul rulla; och hans religion kommer att bli vitt spridd.
Hos Luk 2:41ff berättas om den då 12-årige Jesus, som föräldrarna tappar bort under en resa och senare återfinner i templet, undervisande de skriftlärda. Parallellen finns i Lalitavistâra. Redan som liten är Buddha mycket vis, han hyllas i templet,<![if !supportFootnotes]>[178]<![endif]> och i skolan behärskar han alla talade och skrivna språk.<![if !supportFootnotes]>[179]<![endif]> I samband med en resa tappar man bort honom, och när man slutligen hittar honom befinner han sig i djup meditation.<![if !supportFootnotes]>[180]<![endif]>
Dopet och frestelsen. Även dopet och frestelsen har sina direkta paralleller. Buddha tar ett bad i floden Nairañjana, sätter sig under ett träd och upplever en inre upplysning, som ger anledning till stor fröjd i himlen.<![if !supportFootnotes]>[181]<![endif]> Sedan Jesus blivit döpt, steg han upp ur vattnet:
Himlen öppnade sig, och han såg Guds ande komma ner som en duva och sänka sig över honom. Och en röst från himlen sade: Detta är min älskade son, han är min utvalde. (Matt 3:16–17)
Efter dopet fastar Jesus fyrtio dagar i öknen och frestas därefter av djävulen. Om Buddha omtalas att han efter en 49 dagar lång fasta<![if !supportFootnotes]>[182]<![endif]> frestas i ensamheten av den ondskefulla demonen Mâra (en sorts buddhistisk djävul som kallas den onde), vilken lovar att göra honom till världshärskare.<![if !supportFootnotes]>[183]<![endif]> Liksom Jesus motstår Buddha frestelsen och han hyllas efteråt som segrare av gudar och djur. Jesus hyllas av änglar.<![if !supportFootnotes]>[184]<![endif]>
Buddhas lärjungar. När Gautama inleder sin mission är han, liksom Jesus, i 30-årsåldern (29). Han har många lärjungar, men enligt senare bildkonst finns en utvald grupp på tolv.<![if !supportFootnotes]>[185]<![endif]> Hans två första lärjungar (Tapussa and Bhallika) är bröder och de kommer till honom när han sitter under rajâyatana-trädet efter att just ha flyttat från bo-trädet (ficus religiosa).<![if !supportFootnotes]>[186]<![endif]> Också Jesus' två första lärjungar (Simon Petrus och Andreas) är bröder och enligt Joh 1:48 finner Jesus sin lärjunge Natanael under ett fikonträd. Buddha har också två utvalda lärjungar (Sariputta och Moggallana), där Sariputta, liksom Petrus, är den främste lärjungen och är tänkt att efterträda Buddha. Buddha har även en älsklingslärjunge vid namn Ânanda.<![if !supportFootnotes]>[187]<![endif]>
I likhet med Johannes döparen, som skickar två av sina lärjungar för att fråga om Jesus är den utlovade messias, skickar Pokkarasadi ut Ambattha för att ta reda på om "Samana Gotama" verkligen är den utlovade Buddha.<![if !supportFootnotes]>[188]<![endif]> Både Jesus och Buddha transfigureras (förvandlas) inför sina lärjungar, så att deras kroppar strålar i ett bländande ljus.<![if !supportFootnotes]>[189]<![endif]> Och båda sänder ut sina lärjungar i världen att förkunna sina respektive budskap.<![if !supportFootnotes]>[190]<![endif]>
Buddhas förkunnelse. Såväl Jesus som Buddha lär att man i första hand skall se på sitt eget liv framför att kritisera andra. Båda talar i bilder och liknelser. De använder samma bildspråk med ljus och mörker, sol och regn, fruktsamhet och ofruktsamhet.
Buddha

Tänk på andra som på dig själv. (Dhammapada 10:1)

Övervinn vrede med kärlek, övervinn ondska med godhet. (Dhammapada 1:5 och 17:3)

Om någon skulle slå dig med sin hand, med en käpp eller hugga dig med en kniv, bör du lägga band på dig själv och inte säga något ont. (Majjhimanikâya 21:6)

Det är lättare att se andras fel än sina egna. (Udânavarga 27:1)

Du skall älska din nästa såsom dig själv (Matt 19:19)

Men jag säger er: älska era fiender och be för dem som förföljer er ... (Matt 5:43–44)

Men jag säger er: värj er inte mot det onda. Nej, om någon slår dig på högra kinden, så vänd också den andra mot honom. (Matt 5:39)

Varför ser du flisan i din broders öga, när du inte märker bjälken i ditt eget? (Matt 7:3)

... då blir ni som er himmelske faders söner. Ty han låter sin sol gå upp över onda och goda och låter det regna över rättfärdiga och orättfärdiga. (Matt 5: 45)
Underverken. Buddha besitter stora krafter och utför under liknande dem Jesus gör enligt evangelierna. Han känner andras tankar och handlingar i förväg.<![if !supportFootnotes]>[191]<![endif]> Han botar sjuka, gör blinda seende, döva hörande, halta och lama friska och så att galna återfår sitt förnuft<![if !supportFootnotes]>[192]<![endif]> samt fördriver onda andar.<![if !supportFootnotes]>[193]<![endif]> När Jesus mättar 5000 män med endast fem bröd och två fiskar och det ändå blir tolv korgar med bröd och fisk över (Mark 6:30ff), bespisar Buddha och hans lärjunge Maudgalyayana (Moggallana) 500 munkar med bröd som bakats av deg för endast ett bröd. Och trots att alla äter sig mätta, återstår lika många bröd.<![if !supportFootnotes]>[194]<![endif]> Liksom Jesus, Herakles och andra,<![if !supportFootnotes]>[195]<![endif]> promenerar också Buddha på vattnet,<![if !supportFootnotes]>[196]<![endif]> och han kan dyka upp, försvinna och gå genom väggar.<![if !supportFootnotes]>[197]<![endif]> Han stillar dessutom stormar och får en översvämning att upphöra.<![if !supportFootnotes]>[198]<![endif]>
Även hans lärjungar utför liknande underverk. Buddhas främste lärjunge Shariputra (pali: Sariputta) går ut på floden Achiraviti medan hans sinnesstämning är hög, och han tänker hela tiden på Buddha. Men när han ser vågorna blir han rädd, tappar koncentrationen och sjunker. Dock tar han sig samman, återfår sin tidigare sinnesstämning och fortsätter promenaden på vattnet till den andra sidan.<![if !supportFootnotes]>[199]<![endif]>
Enligt Matteus, Markus och Lukas går Jesu favoritlärjunge Petrus på vattnet (Matt 14:22–33 par). Petrus gör detta på uppmaning av Jesus, sedan Jesus ingjutit mod i honom. Men när Petrus ser hur det blåser, blir han rädd och sjunker, varvid Jesus hjälper honom upp och anklagar honom för att vara svag i tron.
Lukas berättar om en kvinna, som hyllar Jesu moder genom att utbrista: "Saligt det moderliv som har burit dig, och saliga de bröst som du har diat" (11:27). I Nidânakathâ 271 berättas om en ädel jungfru, som när hon får se Buddha utbrister: "Salig är den moder … som erkänner denne underbare Herre." Betecknande är också att Buddha, liksom Jesus, inte fäster någon uppmärksamhet vid orsaken till hyllningen, utan i stället gör en religiös uttolkning av den.<![if !supportFootnotes]>[200]<![endif]>
Hos Markus (12:41–44) och Lukas (21:1–4) berättas om en fattig änka, som kommer till templet och ger två småmynt i gåva. Jesus hyllar då henne inför lärjungarna, då hon skänkt mer än alla de andra, som gav av sitt överflöd, medan hon gav allt hon ägde. Denna berättelse finns nedtecknad också av Ashvaghosha, en indisk diktare, som tros ha levat i början av 100-talet, alltså ungefär samtidigt som evangelierna tillkom. Tydligen har man i både Indien och medelhavsområdet haft tillgång till samma tradition (vandringssägen).
Ashvaghosha berättar om en fattig änka (eller fattig ogift kvinna), som kommer till ett religiöst möte. Hon ser andra ge dyrbara gåvor men har själv inget att ge. Men så erinrar hon sig att hon tidigare hittat två småmynt i en dynghög och skänker dem med glädje till församlingen. Översteprästen hyllar då henne inför prästerna. Han bortser från andras gåvor, och kvinnan inser att han har rätt, då det hon gjort är lika svårt som det är för andra att ge bort allt de äger.<![if !supportFootnotes]>[201]<![endif]>
Buddhas mission och död. Buddha motsätter sig också kraftigt de traditionella stela lagarna, vänder sig mot intoleransen, dogmatismen och prästerskapets hyckleri. Han kritiserar brahmanernas lagläsning av vedaböckerna och tar avstånd från deras blodiga offrande.<![if !supportFootnotes]>[202]<![endif]>
Av egen fri vilja lever han enkelt som tiggare – ett liv i försakelse – och umgås företrädesvis med de sämst ställda i samhället.<![if !supportFootnotes]>[203]<![endif]> Han äter i en skökas hus och klandras för detta av stadens adelsmän.<![if !supportFootnotes]>[204]<![endif]> Han kallas "Siaren", "Mästaren", "den Välsignade", "den Upplyste", "Herren", "den Vakne"<![if !supportFootnotes]>[205]<![endif]> och han kallar sig själv Tathâgata (sanskrit och pali: "den så gångne"). Petrus' trefaldiga förnekelse har sin motsvarighet i Buddhas älsklingslärjunge Ânandas trefaldiga underlåtenhet att be Buddha att stanna till eonens slut.<![if !supportFootnotes]>[206]<![endif]> I berättelserna om Buddha figurerar också en förrädare, den tidigare lärjungen Devadatta. Denne misslyckas emellertid i sitt uppsåt att döda Buddha och får liksom evangeliernas Judas ett beklagligt slut, då han uppslukas av jorden och kokas i helvetet.<![if !supportFootnotes]>[207]<![endif]> Liksom Jesus omvände en bandit på korset får Buddha banditen Angulimâla att helt tänka om och dyrka honom.<![if !supportFootnotes]>[208]<![endif]> Buddha äter en sista måltid,<![if !supportFootnotes]>[209]<![endif]> dör och når (pari)nirvâna. Då inträffar en solförmörkelse<![if !supportFootnotes]>[210]<![endif]> och en stor jordbävning, åtföljd av åska.
I Mahamayasûtra sägs Buddha efter sin död ha öppnat kistlocket och rest sig upp för att trösta sin mor som kom på besök från himlen.<![if !supportFootnotes]>[211]<![endif]>
Den korsfäste Buddha. En troligen förkristen och tämligen ouppmärksammad sanskrittext är Berättelsen om Gautama, Ikshvâkus stamfader, vilken återfinns i Sanghabhedavastu.<![if !supportFootnotes]>[212]<![endif]> Här föreligger en märklig parallell med korsfästelsescenen i evangelierna.
Gautama lämnar sitt liv som tronföljare och söker sig till den asketiske eremiten Krishnadvaipâyana vilken likt Johannes döparen livnär sig endast på vad naturen kan ge, i detta fall frukter, rötter och vatten. Liksom Jesus anser Gautama att hans lärares liv är för asketiskt, och han söker sig till ett mindre asketiskt liv, en sorts medelväg. En sköka mördas och Gautama blir oskyldigt anklagad för mordet. Han förs till kungen som övertygas av folkmassan och dömer Gautama till döden genom korsfästning (bokstavligen att sättas på en påle). I evangelierna är det ståthållare Pilatus som övertygas av folket och låter korsfästa den oskyldigt dömde Jesus.
Man sätter upp anslag om hans brott, en parallell till inskriptionen på Jesu kors.<![if !supportFootnotes]>[213]<![endif]> Liksom Jesus får en krans av törne på sitt huvud fäster man en krans gjord av den mycket giftiga oleanderbusken runt Gautamas hals, och han förs ut ur staden genom den södra stadsporten och sätts levande på en påle. Vi får veta att Gautama genomborras så att hans leder lösgörs och att han kroppsligen lider svårt men att hans sinne förblir opåverkat.
Gautamas asketiske lärare Krishnadvaipâyana oroas över att Gautama inte hunnit avla någon avkomma, vilket troligen kommer att ge dålig karma. Han lyckas därför övertala Gautama att producera två droppar säd vilka faller till marken och tillsammans med blod förvandlas till två ägg. Dessa spricker i solen och två prinsar föds. Gautama dör av solens strålar men återuppstår indirekt i sin avkomma. Hans lärare ser äggskalen nära pålen och förstår att de två gossarna måste vara Gautamas söner. Prinsarna smörjs var och en till kung. Att smörjas till kung är den exakta innebörden av det hebreiska ordet messias (den smorde).
Till saken hör att på platsen där Gautamas korsfästes ligger de krossade äggskalen. På sanskrit benämns dessa äggskal kapâlâni och ordet kapâla betyder såväl äggskal som huvudskalle eller kranium. Jesus avrättades på Golgata (arameiska: Gulgolta) som betyder skallen. Platsen brukar också benämnas huvudskalleplatsen och möjligen liknade kullen ett kranium.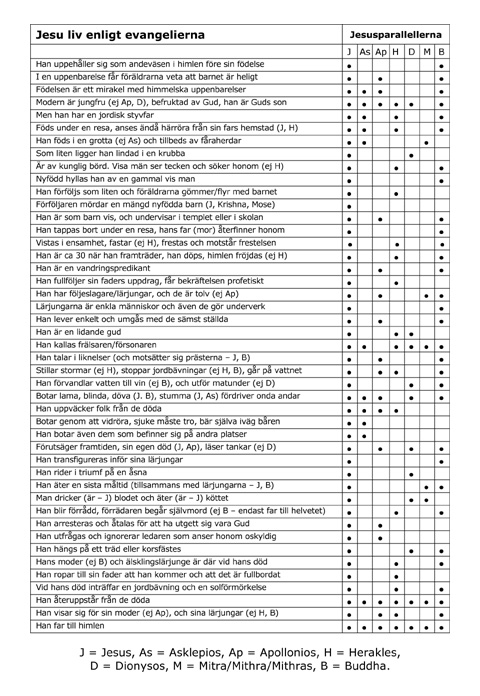 När berättelsen om gudssonen Jesus tecknades ner i evangelierna (enligt min uppfattning vid sekelskiftet år 100), fanns en tydlig föreställning om hur en dylik gudssons liv borde gestalta sig. Evangelieförfattarna påverkades naturligtvis i stor utsträckning av judiska föreställningar men – som här tydligt visats – även av icke-judiska uppfattningar.
Föreställningar om gudar som föds av jordiska jungfrur befruktade av gudar; om döende gudar, trädgudar, vilka dyrkas hängande på träd, och återuppstår från de döda, företrädesvis på den tredje dagen; om vegetationsgudar, vilka följer klimatets växlingar, och solgudar, som följer solens faser på himlen; om gudar som föds vid vintersolståndet och dör vid vårdagjämningen, var allmänt förekommande för två tusen år sedan.
Jag har porträtterat sex gestalter (mytiska eller verkliga), vilkas levnadsöden i stora drag överensstämmer med Jesu liv enligt evangelierna. Dessa sex är inte de enda exempel som kan anföras. Men det är de sex, vilkas liv, åtminstone enligt vad jag känner till, mest liknar jesusberättelsen såsom den framställs i evangelierna.
Uppenbarligen fanns vid denna tid allmänt gängse föreställningar om hur gudomliga personers liv skulle gestalta sig. Historierna ansågs av evangelieförfattarna tydligen vara för bra för att inte användas i deras beskrivning av gudssonen. Frågan om vilka skrifter som är äldst, de kristna eller icke-kristna, är heller inte avgörande eftersom det i många av dessa fall troligen inte rör sig om direkta lån ifrån varandra. Jämförelsen leder oss i stället till slutsatsen att materialet är legendariskt, och såvida Gud inte har sänt många av sina söner med direktiv att leva sina liv alla på samma sätt, bör dessa berättelser förvisas dit de hör hemma, till avdelningen för sagor och myter. Vi kan blott konstatera att ytterligare en gudsson har skapats.
Copyright © 2006 Roger Viklund

---
<![endif]>